cfaed Newsletter 03/2014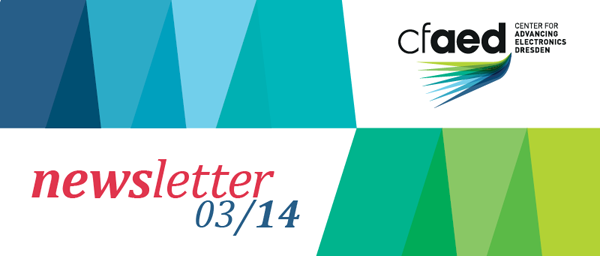 A Research Legend in Dresden: cfaed Welcomed Prof. Sumio Iijima

| | |
| --- | --- |
| | |
The discoverer of carbon nanotubes, Japanese physicist Prof. Sumio Iijima, recently visited Dresden following an invitation of cfaed research path co-leader Prof. Gotthard Seifert. He was invited to give a lecture within cfaed's "Distinguished Lecture Series". During his talk titled "Structural characterization of nanomaterials: carbon, layered materials and clay minerals", Prof. Iijima put emphasis on the importance of high-resolution electron microscopy (HRTEM). Modern electron optical technology including high resolution microscopy, electron energy loss spectroscopy (EELS) and energy dispersive X-ray analysis (EDX), has progressed to a large extent and supported widely innovative research on nano-materials.
Prof. Iijima discovered carbon nanotubes in 1991 while working with NEC Corporation. Starting in the 1970's he researched crystalline materials at Arizona State University and afterwards joined NEC, where he is still employed today. He is also a professor at Meijo University and the director of the Research Center for Advanced Carbon Materials, Distinguished Invited University Professor of Nagoya University and the dean of Sungkyunkwan Advanced Institute of Nanotechnology. Iijima was awarded the Benjamin Franklin Medal in Physics in 2002. He is a foreign associate of National Academy of Sciences and of the Norwegian Academy of Science and Letters and was awarded the inaugural Kavli Prize for nanoscience in 2008.
20th Anniversary of Vodafone Chair Mobile Communications Systems
On 25 September 2014, the Vodafone Chair Mobile Communications Systems celebrated its 20th anniversary with partners of science and industry. The endowed chair was founded by Mannesmann Mobilfunk in 1994 at the Institute of Communication Technology of TU Dresden. Prof. Dr.-Ing. Gerhard Fettweis was appointed as the chair holder at the young age of 32. Under his guidance, the chair was grew and developed and soon became an indispensable nucleus for successful research and business activities, which had strong effects for the region, but was also nationally and globally influential. So far, 11 start-ups were initiated at the chair, Prof. Fettweis was involved in more then 100 research projects and attracted grants of about €500 milion.
On the educational field the Vodafone Chair is also very productive: Up to now, nearly 250 diploma degrees and almost 70 doctoral degrees were supervised by Prof. Fettweis. Since 2012, Fettweis coordinates the Center for Advancing Electronics Dresden (cfaed), in which more than 300 scientists of about 20 countries work interdisciplinary to advance microelectronics beyond Moore. The Collaborative Research Center 'Highly Adaptive Energy-Efficient Computing' (HAEC) which is also coordinated by Fettweis since 2011, is integrated in cfaed. Until March 2010, he was coordinator of the leading-edge cluster Cool Silicon.
The Vodafone Group is one of the world's biggest providers of telecommunications, counting 90,000 employees and a turnover of €55 Billion.
Two Years of Excellence: "The Center for Advancing Electronics Dresden Strengthens the Innovative Location Dresden"
Two years after obtaining the status of Excellence, Technische Universität Dresden (TUD) strikes a positive balance: "The Center for Advancing Electronics Dresden (cfaed) strengthens the innovative location Dresden," TUD rector Prof. Hans Müller-Steinhagen said in June about the Cluster of Excellence to international journalists in Dresden. "cfaed as a large research platform provides important input to the development of the regional industry and supports employment in the region of Dresden," the rector emphasized. "cfaed's research is now internationally leading and is already recognized as one of the top places to undertake research in the area of micro- and nanoelectronics by international scientists."

Funding Success: Co-funding for cfaed by Helmholtz Virtual Institute MEMRIOX Extended
| | |
| --- | --- |
| | |
The Helmholtz Virtual Institute MEMRIOX VH-VI-422 (MEMory effects in Resistive Ion-beam modified OXides) successfully passed the mid-term evaluation. A commission of experts has assessed the research in the Virtual Institute to be very successful and declared their support for further funding until September 2016. With this great success, MEMRIOX now enters its fourth year of funding. For the continued operation of the Virtual Institute, the amount of €2.4 million is available. The institute MEMRIOX, led by cfaed Principal Investigator Prof. Sibylle Gemming, deals with nanoscale structures which are based on oxidic compounds. Their electric resistance can be adjusted through current flow, an effect which permits them to act as electronic switches and non-volatile memories.
The Virtual Institute is a cooperation of eight partner institutions in Germany, Switzerland, and the United States. It is coordinated by the Institute of Ion Beam Physics and Materials Research at Helmholtz-Zentrum Dresden-Rossendorf. Prof. Gemming also holds the Chair of Scale-bridging Materials Modeling (SKALMOD) at TU Chemnitz.
cfaed-supported Project Receives Innovation Award of OUTPUT.DD
| | |
| --- | --- |
| | |
Three researchers of the Vodafone Chair at TUD received an award for the "most innovative project" at the exhibition OUTPUT.DD 2014. On 3 July, more than 50 projects presented their research results at the annual exhibition of the faculty of Computer Sciences at TU Dresden. The PhD students Jens Bartelt, Lukas Landau, and research associate Hermann Hensel presented a demonstrator called "Ultra-high Speed wireless Data Transmission". It realizes an error-free real-time transmission of long data packets at 60GHz with a data rate of multiple Gbit/s, what could be an example for a fast wireless data link between two mobile devices such as a digital camera and a laptop PC. "Ultra-high Speed wireless Data Transmission" is a research project of the Collaborative Research Center 912 'Highly-Adaptive Energy-Efficient Computing' (HAEC), which is also one of cfaed's research paths. The prize-giving was initiated by dresden|exists, a Dresden-based support service for start-ups originating in universities and research institutes. The award was endowed with €250 by the High-Tech Gründerfonds and the Technologiegründerfonds Sachsen.
(Photo: dresden|exists)
In June, Humboldt Awardee Victor Klimov of Los Alamos National Laboratory (USA) spent a week as a guest researcher at cfaed. Prof. Alexander Eychmüller, Chair for Physical Chemistry/Electrochemistry at TUD and cfaed's Career Development Director, hosted the physicist and worldwide leading expert in research on nanocrystals. In 2013, the Russian scientist received the €60.000-award of the Alexander von Humboldt Foundation which aims at supporting research stays in Germany. Since 1995, Klimov is working at the Los Alamos National Laboratory.
From May 2014 to November 2015, Dr. Joseph Páez Chávez from Ecuador is hosted at the interdisciplinary Center for Dynamics of TU Dresden. The Humboldt Fellow analyses the influence of pesticides of horticulture on potable water in developing countries. He is collaborating with researchers of cfaed's Chemical Information Processing path.

| | |
| --- | --- |
| | |
In May 2014, cfaed coordinator Prof. Gerhard Fettweis first announced the forming collaborative research project "Dresden 5G Lab" at the international IEEE Vehicular Technology Conference in Seoul, South-Korea. Since then, many discussions and meetings were held, uncounted hours of preparations passed, and now it was time to celebrate the grand opening of the lab, which henceforth will be operating under the new name "5G Lab Germany". The opening took place on 24 September at TU Dresden, Faculty of Computer Science.
The 5G Lab Germany was founded to advance the research concerning the key technologies for the 5th generation of mobile communications. About 20 professors of TU Dresden will work in an interdisciplinary team together with more than 500 scientists. There are four research tracks which address the whole value chain: from the semiconductor chips about wireless data transmission and the core elements of network infrastructure to tactile network applications. For these, technological requirements are: extremely low latency, massive throughput, massive sensing, massive resilience, massive safety and safety as well as massive fractal heterogeneity of every element. cfaed will particularly support the new 5G research platform with its three systems-oriented research paths - Orchestration, Resilience, and Highly-Adaptive Energy-Efficient Computing (HAEC).
In June and July, cfaed continued its extensive fair program. The Cluster was present at the TechConnect Washington in June. At the beginning of July, the Nanofair and the Silicon Saxony Day as well as the OUTPUT.DD and the 'Lange Nacht der Wissenschaften' (Long Night of Sciences) were on the agenda. The latest important date was the SEMICON Europa in Grenoble from 7 to 9 October 2014, where cfaed was presented at the common booth of the Silicon Saxony network. The strong Saxon presence at Grenoble was powered by more then 35 high-tech enterprises and research institutions — a perfect environment to present the pioneering research of the Cluster!

Stuart Meyer Memorial Award for Prof. Dr.-Ing. Gerhard Fettweis

Congratulations! cfaed cluster coordinator, Prof. Gerhard Fettweis, was awarded the 2014 Stuart Meyer Memorial Award of the IEEE Vehicular Technology Society (VTS). The award is given to members who supported their Society and have contributed to the development of radio technology and science in an outstanding and exemplary manner. The award consists of a plaque and an honorarium and was presented at the 2014 VTC-Fall in Vancouver.
The first cfaed Professors were appointed and started working at their chairs. In August 2014, the 33-year old Colombian computer scientist Jerónimo Castrillón joined the Cluster and since heads the newly established cfaed Chair for Compiler Construction. Castrillón's research interest focuses on methodologies, languages, tools, and algorithms for programming complex electronic systems. Read more about the Chair
Prof. Xinliang Feng was born in Anhui, China. In September 2004, he joined the group of Prof. Klaus Müllen at the Max Planck Institute for Polymer Research in Mainz where he obtained his PhD degree and was appointed as project leader. Since 2011, he became an adjunct distinguished professor at the Shanghai Jiao Tong University and is appointed as the director for the Institute of Advanced Organic Materials. Now he is heading the new cfaed Chair for Molecular Functional Materials. Read more about the Chair
Prof. Stefan Mannsfeld is heading the new cfaed Chair for Organic Devices. He joined the Cluster from Stanford - returning to his roots. Mannsfeld was born in Dresden, studied physics at TU Dresden, and obtained his PhD degree here. Since 2008, he worked as Postdoctoral Fellow at Stanford University, California. In 2009, he became a staff scientist at the SLAC National Accelerator Laboratory. Read more about the Chair
| | |
| --- | --- |
| | |
Malgorzata Lewandowska, professor at the Faculty of Materials Science and Engineering of Warsaw University of Technology, stayed as a guest researcher at the Dresden Center for Nanoanalysis (DCN) from June to July 2014. She was invited within the DRESDEN Fellowship Programme. The international DRESDEN Fellows are given the opportunity to get to know TU Dresden and to present their research field to the local research community. Malgorzata Lewandowska's scientific interest is focused on ultrafine grained and nano-crystalline materials. The goal of her research stay was to establish a closer collaboration between the Warsaw University of Technology, Faculty of Materials Science and Engineering, and the DCN in the field of nanostructured materials and their characterization applying advanced analysis techniques including high-resolution electron microscopy and X-ray microscopy. With this highly sophisticated materials analysis techniques a better understanding of microstructural factors influencing the properties of nanostructured materials is enabled.
Photo: René Jungnickel
Congratulations to cfaed Principal Investigator Prof. Dr. Thomas Geßner: The Chair of Microtechnology at the Center for Microtechnologies (ZfM) - TU Chemnitz - received the "Medal of Honor" of his university. The renowned Chemnitz scientist received this honor in recognition to his achievements in developing the microelectronics / microsystem technology at the university and the development of a successful innovation network between the university and other scientific institutions and companies. Prof. Geßner is involved in cfaed's research paths B (Carbon) and D (Biomolecular-Assembled Circuits).
Read more (Silicon Saxony)
Photo: Fraunhofer ENAS
Poster Prize: cfaed Scientists Succeed at XV International Conference on Electron Microscopy in Kraków
cfaed Scientists of Dresden Center for Nanoanalysis (DCN) and Nanoelectronic Materials Laboratory (NaMLab) succeeded in the poster session of XV International Conference on Electron Microscopy in Kraków, Poland. Sayanti Banerjee (DCN) and Jens Trommer (NaMLab), together with Dr. André Heinzig (NaMLab), Dr. Uwe Muehle (Fraunhofer IKTS), Dr. Markus Löffler (DCN) and Prof. Ehrenfried Zschech (scientific coordinator of DCN) submitted a poster entitled "Preparation and characterization of silicon nanowires using SEM/FIB and TEM". The poster has been awarded the 2nd place by the jury. In all, there were more than 130 submissions for the poster session which all entered the competition. The conference with more than 300 international participants took place from September 14 to 18, 2014.

10 - 14 Nov 2014:
Grand Professor Week including Career Development Day
More information

Wednesday / Thursday, 12 / 13 Nov 2014
Colloquium "Coating, modification and characterization of polymer surfaces"
Focus: Active and functional coatings for power generation and power storage
Organizer: Leibniz Institute for Polymer Research (IPF)
Click to view schedule and registration form

Monday, 15 Dec 2014
General Assembly
(cfaed internal event)
Fairs & Exhibitions

cfaed is currently preparing its presentations at international fairs in 2015.
cfaed Seminar Series

Thursday, 23 Oct 2014
Prof. Dr. Stephan Roche, Catalan Institute of Nanoscience & Nanotechnology,
Campus UAB, Spain
"Understanding Charge Transport in Graphene-based Materials: From Concepts to Applications"
Loc. / time: TU Dresden, Hallwachsstr. 3, room 115, 13:00

Monday, 03 Nov 2014
Prof. Gotthard Seifert, TU Dresden, Chair of Theoretical Chemistry
"Electronic, optical and mechanical properties of nanostructures"
Loc. / time: TU Dresden, Barkausenbau, room BAR II / 63a, 15:00

Monday, 10 Nov 2014
Prof. Michael Schröter, TU Dresden, Institute of Circuits and Systems (IEE)
"CNTFET-based HF electronics - State-of-the-art and future prospects"
Loc. / time: TU Dresden, BAR II / 63a, 13:30

Thursday, 20 Nov 2014
Prof. Brigitte Voit, Leibniz Institute for Polymer Research (IPF) / TU Dresden
Topic: tbd
Loc. / time: TU Dresden, BAR II / 63a, 09:30

This is the public newsletter of TU Dresden's Cluster of Excellence "Center for Advancing Electronics Dresden" (cfaed). It is published quarterly.

Publisher

Technische Universität Dresden
Center for Advancing Electronics Dresden
01062 Dresden, Germany
Tel: +49 (0) 351-463-42847
Fax: + 49 (0) 351-463 41099
E-mail: cfaed@tu-dresden.de
www.cfaed.tu-dresden.de
Editors: Matthias Hahndorf, Birgit Holthaus
Layout: Christiane Kunath
Programming: Manuel Pfalz

Unsubscribe from Newsletter List?


The newsletter was sent to this address: ##email##

To unsubscribe, please click the link below: