cfaed Newsletter 04/2014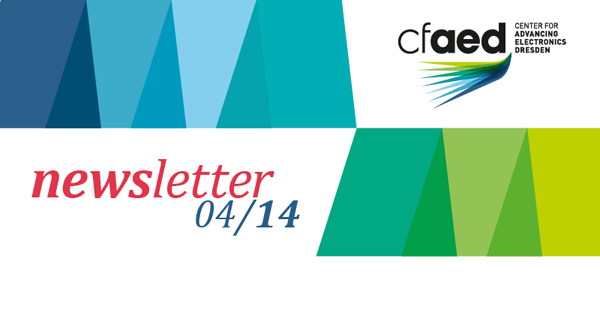 The World at cfaed: Calendar / Portrait Series of Our International Scientists

As last year, we produced a glossy calendar. We extended the dimensions to bold 46x46 centimeters, and featured the splendid photography style of Jürgen Lösel once more. The topic of our 2015 calendar is "The World at cfaed". In addition, we started a new series with the same topic on our website, introducing the people shown in the calendar. While the calendar presents the people in a very condensed style, the website series is for those who want to read more! The calendar is still available at the PR office. It's free for all cfaed members as well as cooperating partners and network partners. And here you can download it as a PDF file.
cfaed Program Office has moved. You can now find us at the historic monument "Ida Bienert Villa", Würzburger Str. 46, 01187 Dresden. For the first time, all administrative cfaed staff is united under one roof! Some of the phone numbers at our program office have changed once again. Please refer to the website to find the changes in detail. To show the location, follow the TUD Campus Navigator.
Photo: "Würzburger46-DD" by SchiDD. Licensed under Creative Commons Attribution-Share Alike 3.0 via Wikimedia Commons - http://commons.wikimedia.org/wiki/File:Würzburger46-DD.jpg#mediaviewer/File:Würzburger46-DD.jpg

For a handful of scientists at TUD, the 12th November 2014 was a very exciting day: For the first time, a man-made space probe landed on a comet. TUD professor and cfaed investigator Dirk Plettemeier is heavily involved in the development and data analysis regarding one of the robot's instruments, which is called CONSERT (COmet Nucleus Sounding Experiment by Radiowave Transmission). Read more...
Photo: "Rosetta's Philae touchdown" by DLR German Aerospace Center, CC-BY 3.0 - https://www.flickr.com/photos/dlr_de/15307802908/. Licensed under CC BY 3.0 de via Wikimedia Commons
TUD Team 'Dresden DNAmic' successful at the International BIOMOD Contest in Harvard
For the third time in a row, a team of TUD students reached the second place at an international science contest in Harvard (USA): Under the supervision of cfaed research group leader Dr. Thorsten-Lars Schmidt, twelve students of the BIOTEC master's programs 'Molecular Bioengineering' und 'Nanobiophysics' took part in the annual 'Harvard Biomolecular Design Competition' (BIOMOD) in Boston. The interdisciplinary team 'Dresden DNAmic' uses the DNA-Origami-technique to create a nanometer-sized photonic circuit with the helices of the genetic code carrier and gold nanoparticles. Read more...
Well-attended Winter School in Tunis: Design, Programming and Applications of Multi-Processor System on Chip

The cfaed Chair for Compiler Construction, together with Prof. Chadlia Jerad from ENSI (École Nationale des Sciences de l'Informatique) and ENIT (École Nationale d'Ingénieurs de Tunis) organized a Winter School on "Design, Programming and Applications of Multi-Processor System on Chip". The Winter School was held in Tunis, Tunisia during the week of the 24th of November and enjoyed a not-so-wintery, sunny atmosphere with over 20 degrees. Read more...

In mid-November, cfaed organized a "Grand Professor Week". This event ran under the frame of the Cluster's Grand Professor Program which is one of the most important tools of cfaed's unique career development program. Four of our Grand Professors were on site: Prof. James Cordy, Prof. Helene Kirchner, Prof. Heinrich Meyr and Prof. Itamar Willner. The GPW also included an exhibition and a PhD Students Welcome Day. The GPW started with two scientific talks: Prof. Michael Schröter, cfaed Carbon Path Leader, talked about "CNTFET-based HF electronics - State-of-the-art and future prospects". Grand Professor Itamar Willner introduced us to "DNA Nanotechnology: From Basic Concepts to Potential Applications".
Last but not least, our Grand Profs left behind some words of advice for our PhD students. Find out more by clicking the video!
Inaugural Prof. Xinliang Feng - Chair for Molecular Functional Materials

On 11 December 2014, the recently assigned cfaed professor Xinliang Feng, Chair for Molecular Functional Materials, gave his inaugural lecture. The well-attended talk was titled: "Graphene and 2D Materials: New Opportunities for Chemical Synthesis and Applications in Electronics and Energy Technology". Read more...

Prof. Gerhard Fettweis Receives IEEE WTC Recognition Award and Dresden Congress Award

Each year, the IEEE Wireless Communications Technical Committee (WTC) recognizes one or two colleagues with outstanding achievements and contribution in the area of "wireless communications systems and networks" through the "WTC Recognition Award." In October 2014, the Award Selection Committee selected cfaed coordinator Prof. Gerhard Fettweis as the winner of the 2014 WTC Recognition Award. Congratulations! The award plaque was presented to Gerhard during the WTC meeting at the GLOBECOM 2014, the IEEE Global Communications Conference, which was held from 8 Dec - 12 Dec 2014 in Austin, Texas, USA.
In November, also the prestigious Dresden Congress Award was once more presented to Prof. Fettweis. The awardees were honored at the ceremony for their success in attracting internationally successful conferences and workshops to Dresden. Prof. Fettweis received the award for the VTC2013-Spring, for which he was General Chair in June 2013.
Photo: Sylvio Dittrich (Dresden Congress Award)

Prof. Frank Ellinger Receives Research Award Technical Communication of Alcatel-Lucent Foundation

In mid-November 2014, Prof. Dr. Frank Ellinger was awarded the Research Award Technical Communication of the Alcatel-Lucent Foundation. The award is endowed with EUR 20,000. Together with his team, the electrical engineer and economist has been working very successfully in the field of integrated circuits for future communications technology for years. Frank Ellinger heads the Chair for Circuit Design and Network Theory at the Department of Electrical and Computer Engineering at the TUD. He has initiated the DFG priority program FFlexCom. Prof. Ellinger is also initiator and coordinator of the BMBF project FAST, in which more than 70 partners are involved. Prof. Ellinger is one of the Principal Investigators of cfaed and lead the Carbon Research Path until summer 2014.
Pro
German Prize for IT-Security 2014 Goes to Prof. Hermann Härtig's Team

A team including cfaed investigator Prof. Hermann Härtig came in third at this year's IT-Security prize awarded by the Horst Görtz Foundation. Every other year, a jury of IT-experts awards the prize for innovations in the areas of IT-security, cryptography, system and network security as well as defense of cyber attacks. In this year, 66 teams had submitted applications of which 11 were shortlisted. Members of Prof. Härtig's team include Adam Lackorzynski (TUD spinoff Kernkonzept GmbH), Matthias Broll and Dr. Aubrey-Derrick Schmidt (both T-Systems International GmbH) as well as Dr. Christoph Peylo (Trust2Core GmbH). By adapting the L4Re microkernel for mobile platforms, two operating systems can run at the same time which enables an open user space compartment to send e.g. private mails and a secure business area where communication is only possible via a VPN tunnel. Read more...
cfaed investigator Prof. Dr.-Ing. habil. Gerald Gerlach, Professor for solid state electronics at TUD, is now an honorary member of the Professional Association of German Engineers (Verband der Elektrotechnik, Elektronik und Informationstechnik – VDE). Since the 90-ies, Gerald Gerlach is involved in the association's activities. He had organized several conferences and was responsible member of the executive committee. Prof. Gerlach is also active in setting internationals standards in the education of engineers. He is connected to cfaed as an investigator within the Chemical Information Processing Path. Read more...
The new cfaed professors take over research path leaderships! As announced at the General Assembly on 15 Dec 2014, Prof. Jeronimo Castrillon is, as of now, the new leader of the Orchestration research path. He follows Prof. Herrmann Härtig, who lead the path from the start. Also Prof. Stefan Mannsfeld is now a path leader: He takes over the leadership of the Organic/Polymer research path from Prof. Karl Leo.
cfaed's Executive Board will also see a change next year. cfaed Coordinator, the Career Development Director and the Program Management Director together form the Cluster's Executive Board. The Career Development Director's position is normally appointed for two years only. Prof. Karl Leo was elected as successor to Prof. Eychmüller. He will take over in March 2015.

Inaugural Lecture: Prof. Jeronimo Castrillon, Chair for Compiler Construction
Topic: "Compilers for Multi and Many Processor Systems"
Date: 28 January 2015, 16:30
Loc: TU Dresden, Andreas Pfitzmann Building, room INF E023
European Advanced Training Course:
Nano-scale Materials Characterization-Techniques and Applications
9 - 11 June 2015, Dresden, Germany
Organizer: Dresden Fraunhofer Cluster Nanoanalysis (DFCNA)
Practical lab training in small groups
The course is intended for individuals who wish to expand their knowledge in the field of nanscale materials and nanoanalysis. The subjects covered in this course extend from fundamentals of materials science and analysis to the current nanotechnologies and challenges in industry. Scientists, engineers and technicians working in industry, research and education, who are interested to extend their knowledge in nanoanalysis, will benefit from this course.
Chairman of the seminar is Prof. Dr. Ehrenfried Zschech, Dresden Fraunhofer Cluster Nanoanalysis and Scientific Coordinator of Dresden Center for Nanoanalysis.
For further information please contact:
Deutsche Gesellschaft für Materialkunde e.V.
www.dgm.de
European Polymer Congress 2015
Date: June 21 to 26, 2015
Just opened: online submission of papers and posters! Submit your contribution by January 15, 2015 via the website www.epf2015.org.
The EPF congress is an important platform for inspiring international and interdisciplinary exchange at the forefront of polymer science, covering a broad range of topics:
Advances in macromolecular synthesis: From precision polymer structures towards interactive polymer materials
Nanomaterials and composites: Preparation, characterization, processing, modelling, application
Polymers meet biology: Bioinspired and bioactive polymers, biohybrides and polymers at the biointerface
From polymer science to soft matter science
More with less: Polymers address challenges of resources, sustainability, and energy efficiency
The post-silicon age: Polymer and organic electronics
Organizer: Leibniz-Institut für Polymerforschung Dresden e. V.
www.ipfdd.de
cfaed Distinguished Lecture: Prof. Patrick Aebischer
President EPF Lausanne, CH
Date: 11 November 2015 (tbc)
Fairs & Exhibitions

cfaed is currently preparing its presentations at Hannovermesse and CeBit 2015.
cfaed Seminar Series

13 January 2015
Dr. Thorsten-Lars Schmidt - TU Dresden, Center for Advancing Electronics (cfaed), DNA Chemistry Group
Topic: Why should the cfaed care about DNA nanotechnology?
14 January 2015
Prof. Gerhard Fettweis - TU Dresden, Vodafone Chair Mobile Communications Systems / coordinator cfaed and CRC 912 HAEC
583. ELEKTROTECHNISCHES KOLLOQUIUM
Topic: Perspektiven in der Elektronik aus dem Exzellenzcluster cfaed
15 January 2015
Dr. Fabian Pauly - University of Konstanz
Topic: From electric to thermal and thermoelectric properties of atomic and molecular junction
12 February 2015
Prof. Carmen Herrmann - Universität Hamburg, AK Theoretical Chemistry
Topic: Controlling and understanding conductance in molecular junctions
09 March 2015
Prof. Kensuke Osada - University of Tokyo, Department of Bioengineering
Topic: Block copolymer assemblies for systemic gene therapy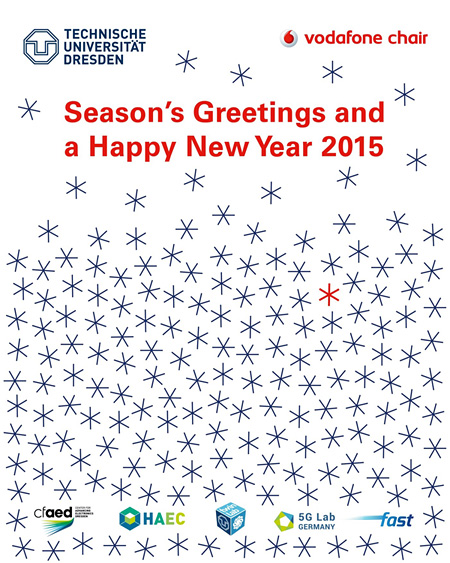 This is the public newsletter of TU Dresden's Cluster of Excellence "Center for Advancing Electronics Dresden" (cfaed). It is published quarterly.

Publisher

Technische Universität Dresden
Center for Advancing Electronics Dresden
01062 Dresden, Germany
Tel: +49 (0) 351-463-42847
Fax: + 49 (0) 351-463 41099
E-mail: cfaed@tu-dresden.de
www.cfaed.tu-dresden.de
Editors: Matthias Hahndorf, Birgit Holthaus
Layout: Christiane Kunath
Programming: Manuel Pfalz

Unsubscribe from Newsletter List?


The newsletter was sent to this address: ##email##

To unsubscribe, please click the link below: