cfaed Newsletter - Highlights 2015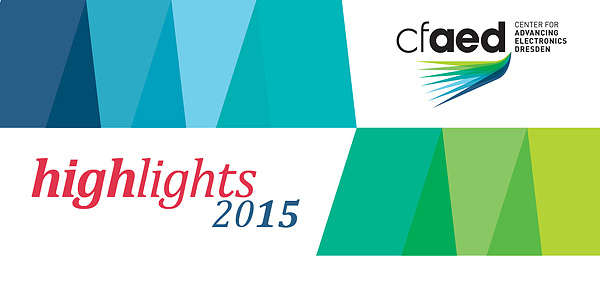 | | |
| --- | --- |
| | |
In mid-April, building works for new laboratories and seminar rooms of cfaed began. Major construction work of the extension to today's South wing of the Barkhausen Building at TUD campus will last until the end of 2017. The project is led by the Saxon state company Sächsisches Immobilien- und Baumanagement (SIB) and financed with € 35 million by the Saxon State government based on funding from the European Regional Development Fund (ERDF). The installation of highly responsive, nanoelectronic and oscillation-sensitive measuring instruments will be the particular challenge for the civil engineers. This equipment will later be operated by cfaed's technology platform Dresden Center for Nanoanalysis (DCN).
The groundbreaking ceremony for the new building complex took place on 24 August. The Minister of State Prof. Georg Unland (Saxon State Ministry of Finance), Matthias Hüchelheim (Saxon State Ministry of Science and the Arts), and the Rector of TUD, Prof. Hans Müller-Steinhagen participated at the symbolic groundbreaking act.
On 21 May 2015, the Deutsche Forschungsgemeinschaft (DFG, German Research Foundation) granted a second four-year funding period of the Collaborative Research Center 912 "Highly Adaptive Energy-Efficient Computing" (HAEC). The second funding period will last from 1 July 2015 until 30 June 2019. "During Phase I, we already have achieved remarkable progress in the area of highly adaptive energy-efficient information processing, which will be further investigated in Phase II." Prof. Gerhard Fettweis, HAEC's coordinator said. To address the demanding scientific challenges, HAEC's number of subprojects has increased from 15 during Phase I to 21 in Phase II. HAEC is embedded into the research structure of cfaed as one of its research paths.

As part of the work within the Silicon Nanowires Research Path, researchers have developed a lightweight and mechanically flexible diagnostic platform based on cost-effective, highly sensitive silicon nanowire field effect transistors attached on flexible polymeric foils that are only 100 μm thick. The scientists would like to develop a highly sensitive diagnostic platform that is able to recognize quickly viral or infectious diseases, especially in developing countries. The work was conducted jointly by the Leibniz Institute for Solid State and Materials Research Dresden (IFW) in collaboration with the Chair of Materials Science and Nanotechnology at TU Dresden and NaMLab gGmbH.
In 2015, the Orchestration Path intensively worked on the further development of the Tomahawk chip. Under the guidance of Prof. Gerhard Fettweis' research group, members of the Path which is led by Prof. Jeromimo Castrillon, strived to take the third edition of the chip, the Tomahawk 3, to tape-out at Globalfoundries. The processor chip is designed for 1000x improved energy/speed efficiency for database searches.
The next edition, namely the Tomahawk 4, combines database searches and signal processing and is expected to be back from Globalfoundries in January 2016. Publications about the two chips have been submitted and are due for acceptance in Spring 2016 and Spring 2017, respectively.
Prof. Karl Leo, Principal Investigator of cfaed, received two prestigious fellowships in 2015. He became fellow of the Optical Society (OSA), the leading professional association in optics and photonics. He also became fellow of the Canadian Institute of Advanced Research (CIFAR), an institute of advanced study that creates and maintains global research networks working on complex areas of inquiry.
Proof of Concept Grant from European Research Council (ERC) for Prof. Xinliang Feng
cfaed's Strategic Professor for Molecular Functional Materials Xinliang Feng succeeded in the second call for proposals of the European Research Council 'Proof of Concept Grants'. His project concerning electrochemical delamination of graphite was honored with funding of up to €150.000, which will contain a study about the viability of commercial utilization of the excellent research results. With the 'Proof of Concept Grants', the ERC wants to contribute to growth and innovation in the European Union.

| | |
| --- | --- |
| | |
cfaed's Distinguished Lecture Series attracts top scientists, including Nobel Prize Laureates and Nobel Prize Nominees. In 2015, two international renowned researchers followed the invitation by the Cluster's coordinator, Prof. Gerhard Fettweis.
In March, Prof. Michael Grätzel (EPF Lausanne, Switzerland) talked about the future of energy conversion via photovoltaics in his lecture titled "Nanocrystalline Junctions and Mesoscopic Solar Cells". The Professor of Physical Chemistry and Head of the Laboratory for Photonics and Interfaces at EPFL is one of the world's top researchers in chemistry. He developed a new type of solar cell, called 'Graetzel Cell'.
Prof. Roland Wiesendanger (Universität Hamburg) presented his lecture on nanoscale magnetic knots in December 2015. As the former speaker and scientific coordinator of the Hamburg Cluster of Excellence "NANOSPINTRONICS", Prof. Wiesendanger is one of the leading experts of nano sciences. He has received many international prizes, including the Philip Morris Research Prize for his work on ultimate magnetic microscopy. His lecture was titled "Nanoscale Magnetic Knots - A New Twist for Spintronics".
...read more on DLS Prof. Wiesendanger
DCN Co-organized FCMN and 3rd Dresden Nanoanalysis Symposium
In April, the International Conference on Frontiers of Characterization and Metrology for Nanoelectronics (FCMN) was co-organized by cfaed's technology platform Dresden Center for Nanoanalysis (DCN). It focused on the characterization technology needed for nanoelectronic materials and device research, development, and manufacturing. In total, 141 people from 11 countries participated in the meeting. The guided tours to the state-of-the-art metrology facilities at Globalfoundries and Fraunhofer IPMS-CNT attracted much attention.
The 3rd Dresden Nanoanalysis Symposium was also held in April 2015. DCN organized the event in cooperation with the Dresden Fraunhofer Cluster Nanoanalysis. The scientific talks ranged from fundamental research to the industrial perspective. The winner of the poster competition was Sebastian Schneider from IFW Dresden with the Poster "Exploring the properties of individual nanomagnets: EMCD on FePt nanocubes".
Dresden Microelectronics Academy: About 40 Participants at cfaed Summer School
For the first time, cfaed co-organized the Dresden Microelectronics Academy (DMA) in September. Over the past 14 years, the DMA has developed into a prestigious Summer School, which attracts microelectronics students from all over the world. This year, about 40 participants from ten countries were selected from the large number of applicants. Together with the co-organizers Globalfoundries and X-FAB, a packed 5-day program was put together. For the first time, new topics such as organic electronics or graphene were included.
Enhancing International Visibility: cfaed at CeBIT, HMI and other Fairs
cfaed participates regularly in international fairs and exhibitions as a measure to enhance visibility and to present latest research results. During 2015, cfaed was represented at CeBIT where the booth was visited by the Federal Minister for Research, Johanna Wanka, and Stanislaw Tillich, Saxony's state premier. Furthermore, we were present with scientific demonstrations at Hannover Messe, the Congress of the European Polymer Foundation, and Semicon Europa.
...see photo gallery of Hannover Messe
Local Outreach: Lange Nacht der Wissenschaften, Girls' Day and more...

Every year, cfaed scientists enjoy presenting their daily work to participants of the annual Girls' Day in April and the Dresden 'Lange Nacht der Wissenschaften' in Summer. This year, ten girls listened to the talk 'How does the iPhone really work' and joined a cleanroom tour during the Girls' Day in Spring. The DCN opened their air-conditioned labs to the public on a very hot Summer evening during the 'Lange Nacht der Wissenschaften'. Visitors were fascinated by the microscopes of DCN and children glued together strings of DNA helices and walked along a transistor circuit.

Congratulations to all awardees!
cfaed Strategic Professor Jeronimo Castrillon Co-organized ViPES Workshop

The third edition of the international workshop on Virtual Prototyping of Parallel and Embedded Systems (ViPES'2015) took place in Greece in July this year. In his role as program chair, Prof. Castrillon (cfaed Chair for Compiler Construction), together with Prof. Cristina Silvano from Politecnico di Milano, put together a technical program with highly interesting presentations and keynotes. The workshop received submissions from six different countries and was attended by over thirty participants. This edition of the workshop was co-located with the 15th International Conference on Embedded Computer Systems: Architectures, Modeling, and Simulation (SAMOS).
Akash Kumar Accepts Call as Fourth cfaed Strategic Professsor
Congratulations to Akash Kumar on his appointment as Professor for Processor Design! The multiprocessor systems expert is the fourth appointed professor at cfaed. He received his PhD in electrical engineering from the National University of Singapore (NUS) jointly with Eindhoven University of Technology in the Netherlands. He will be working within the CRC912 HAEC as well as the Orchestration and Resilience Paths of cfaed.
Congratulations to the following new cfaed Research Group Leaders:
• Dr. Pramod Bhatotia, Parallel and Distributed Systems Group, joined cfaed in April 2015
• Dr. Martin Elstner, Chemical Information Processing Group, joined cfaed in January 2015
• Dr. Marco Zimmerling, Networked Embedded Systems Group, joined cfaed in November 2015
Since the beginning of 2015, Prof. Karl Leo is cfaed's new Career Development Director. In this role, Prof. Leo oversees the distinct career development activities of the Cluster. A structured program to develop and foster the careers of young scientists has been initiated, together with the team of Career Development Managers.
cfaed is proud to announce that four of its former group leaders have moved on to new challenging positions:
• Dr. Marcus Völp (former Research Group Leader, Orchestration Path) ↦ Research Associate at the University of Luxembourg
• Dr. Haralampos Hatzikirou (former Research Group Leader, Biological Systems Path) ↦ Group Leader at HZI Braunschweig
• Dr. Florina Ciorba (former HAEC Group Leader) ↦ Assistant Professor at the University of Basel
• Dr. Michael Lentmaier (former HAEC Group Leader) ↦ Associate Professor at Lund University
In 2015, the following research stays were supported by cfaed INSPIRE grants:
• Dr. Ihsan Amin, Organic Path, 29.12.14 - 29.04.15, Cornell University, Ithaca, USA
• Tim Erdmann, Organic Path, 06.03. - 04.06.15, Northwestern University, Evanston, USA
• Jun.-Prof. Kambiz Jamshidi, HAEC, Summer 2015, Stanford and Harvard University, USA
• Jana Kalbacova, Carbon Path, 12.04. - 18.06.15, NIST, Gaithersburg, USA
• Dr. Susanne Leubner, BAC/CIP Path, 31.03. - 28.06.15, Arizona State University, USA
• Dr. Violetta Sessi, SiNW Path, 29.10. - 11.12.15, RIKEN Quantitative Biology Center, Kobe, Japan
• Florian Günther, Organic Path, 12.10. - 16.11.15, University of Sao Paulo, Brazil
• Sayanti Banerjee, SiNW Path, 31.07. - 22.11.15, Institute of Metallurgy and Materials Science, Krakow, Poland
• Dipjyoti Deb, SiNW Path, 09.05. - 02.06.15, Tyndall National Institute, Cork, Ireland
For the second time, all five of cfaed's Grand Professors participated in November's Grand Professor Week. A diverse program was put together for PhD students, Postdocs, Group Leaders, and young Professors. Sessions included mentoring classes, individual career consultations, scientific talks, fireplace talks and a guided tour through the X-Fab premises, which was highly appreciated.
We are pleased that our Grand Professor Heinrich Meyr spends six months in Dresden. During that time, cfaed members can contact him on-site in his role as cfaed Grand Professor. He is available for individual mentoring sessions, career advice and general support with regards to personal research development.

This is the public newsletter of the Cluster of Excellence "Center for Advancing Electronics Dresden" (cfaed) at TU Dresden.

Publisher

Technische Universität Dresden
Center for Advancing Electronics Dresden
01062 Dresden, Germany
Tel: +49 (0) 351-463-42847
Fax: + 49 (0) 351-463 41099
E-mail: cfaed@tu-dresden.de
www.cfaed.tu-dresden.de
Editors: Sandra Bley, Matthias Hahndorf
Design: Christiane Kunath

Unsubscribe from Newsletter List?


The newsletter was sent to this address: ##email##

To unsubscribe, please click the link below: