News
November 2018: Prof. Kensuke Osada (Tokyo) visits the lab for a month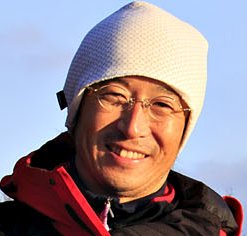 Welcome Kensuke.
October: Kataria's DEB paper is out
Read about our DNA encircled lipid bilayers.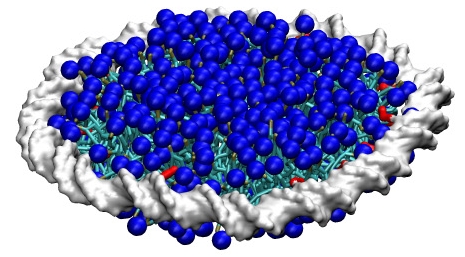 Congratulations!
September: Thorsten accepts an offer from Kent state University starting in January

The rats are leaving the sinking ship...
September 2018: Olha graduates with a "very good" master's thesis.
Congratulations!
July 2018: Canoeing on Elbe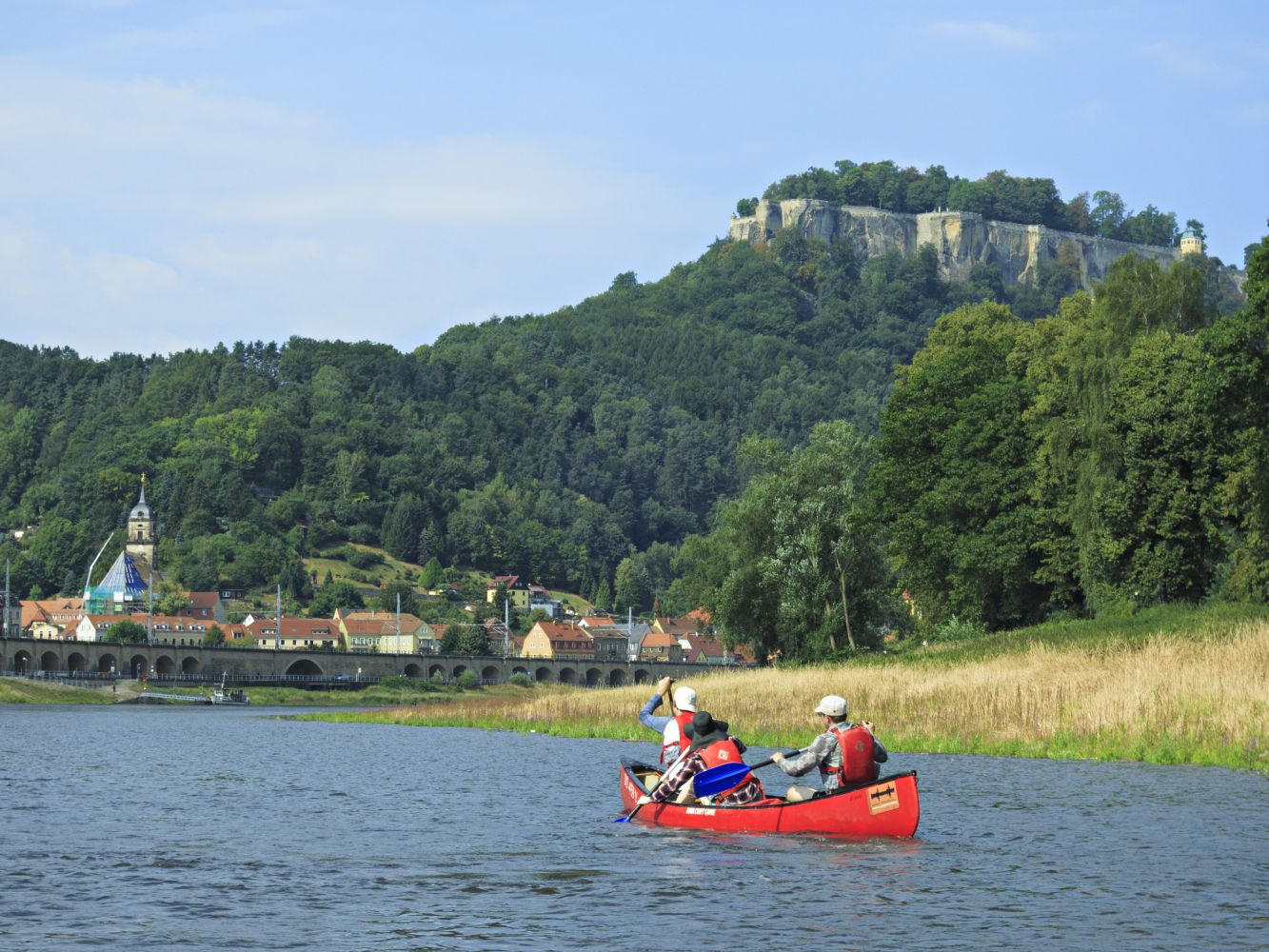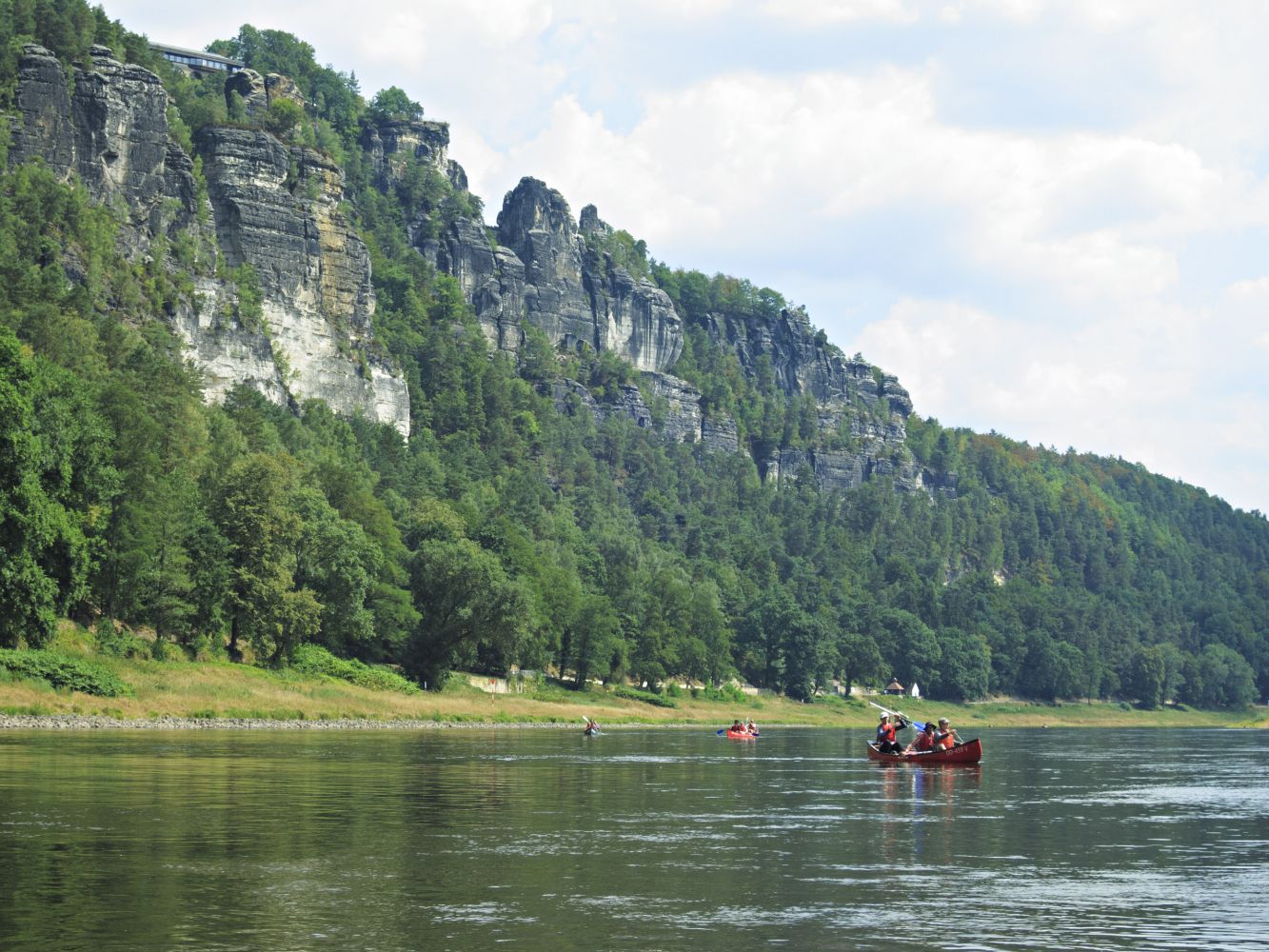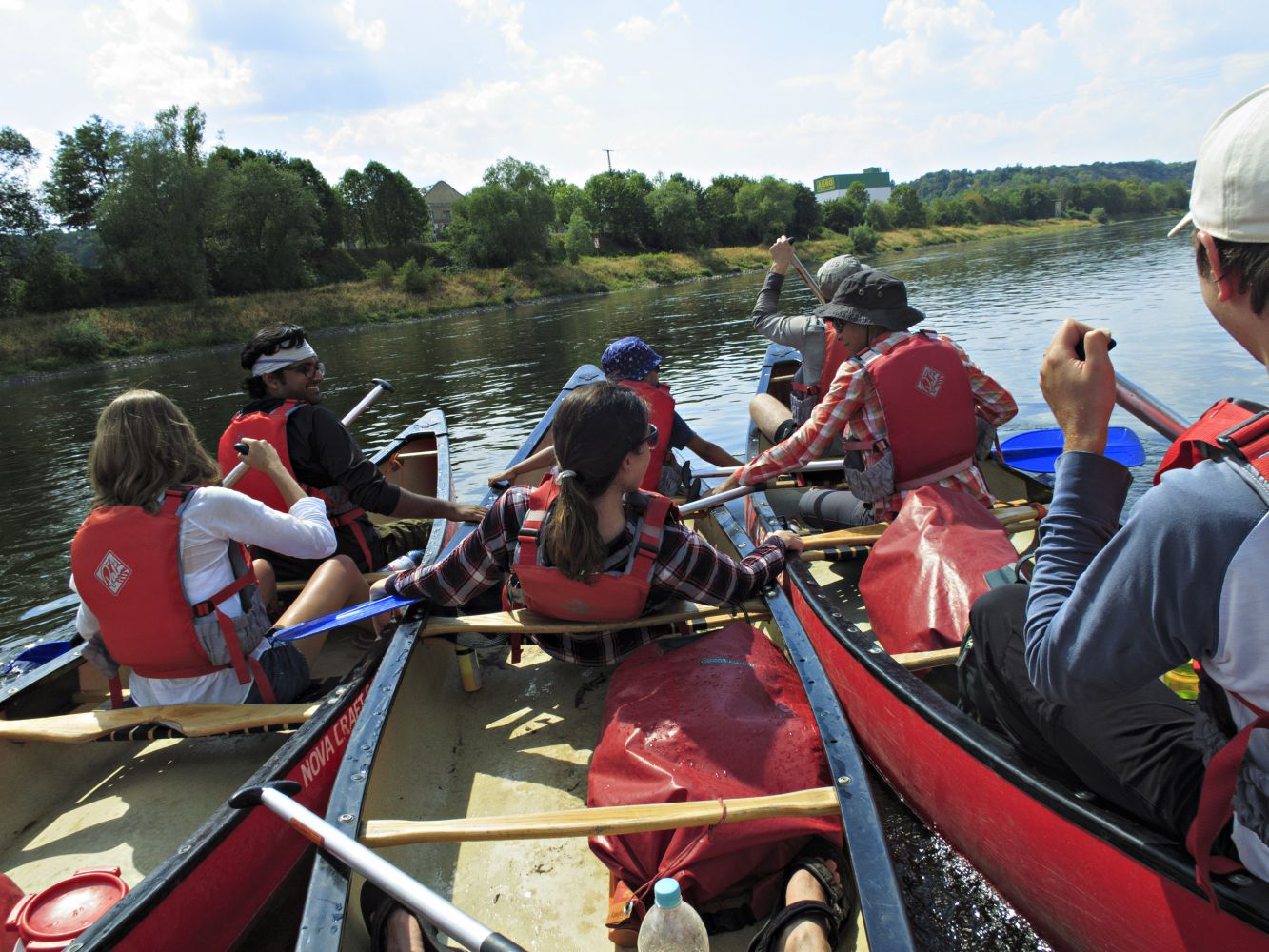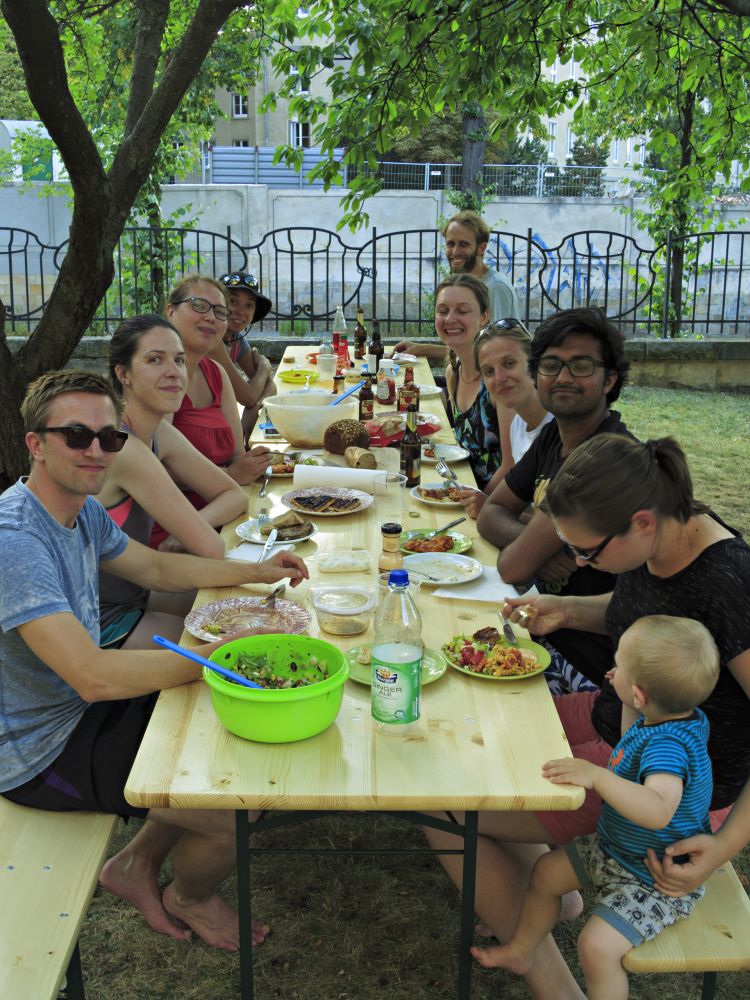 June: Chloe Jones joins as summer intern
Welcome Chloe!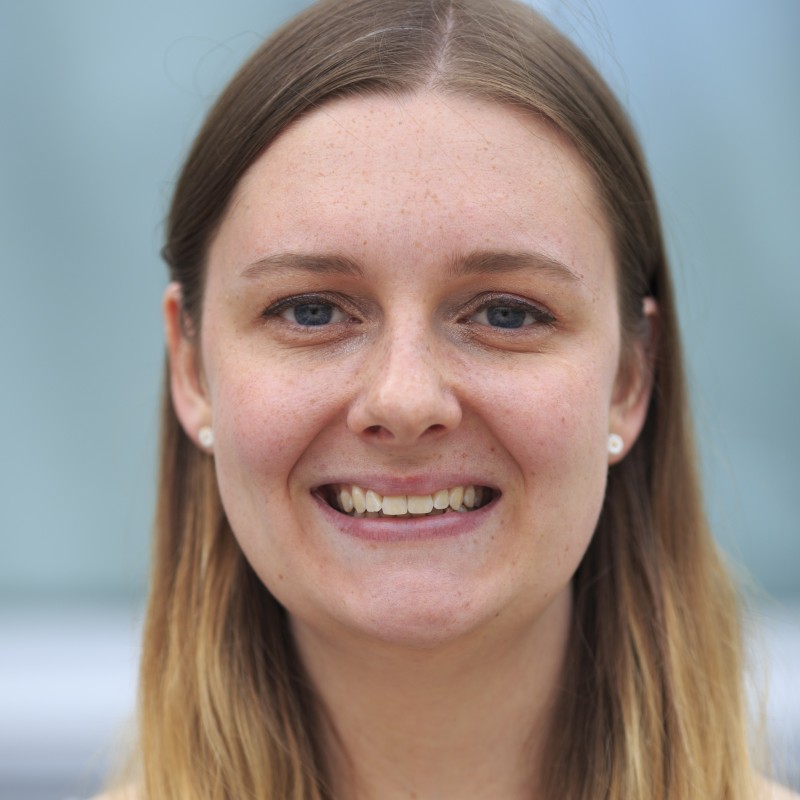 For the first time in Schmidt lab history, females outnumber the males! Which is good news to me, if you wonder...
April: Kristin joins the lab
Kristin Joffroy joins the lob as research associate and lab manager. Welcome Kristin!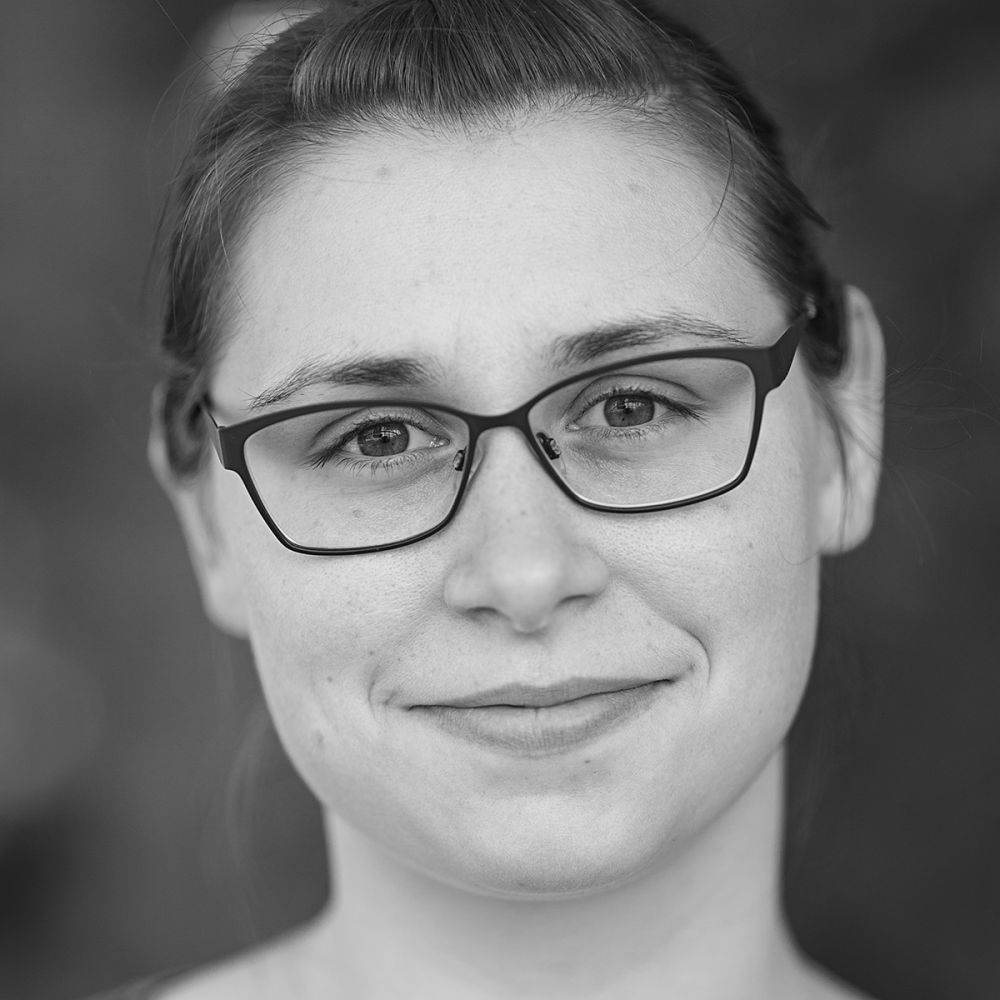 Fatih very successfully defends his thesis and is the first PhD of the group.
Congratulations, Fatih and all the best for your future!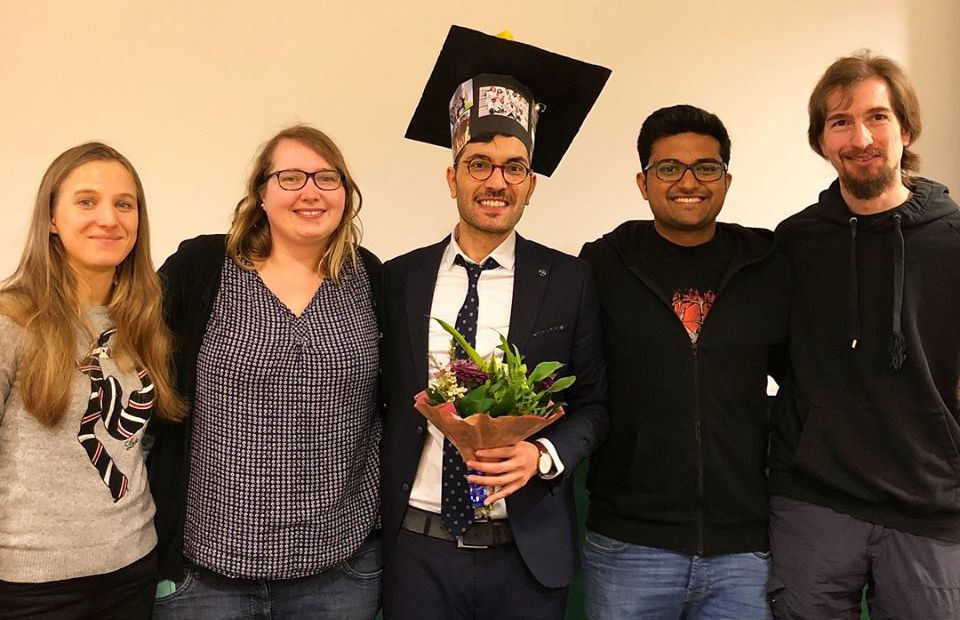 March: "Outstanding Mentor Award 2018" goes to Thorsten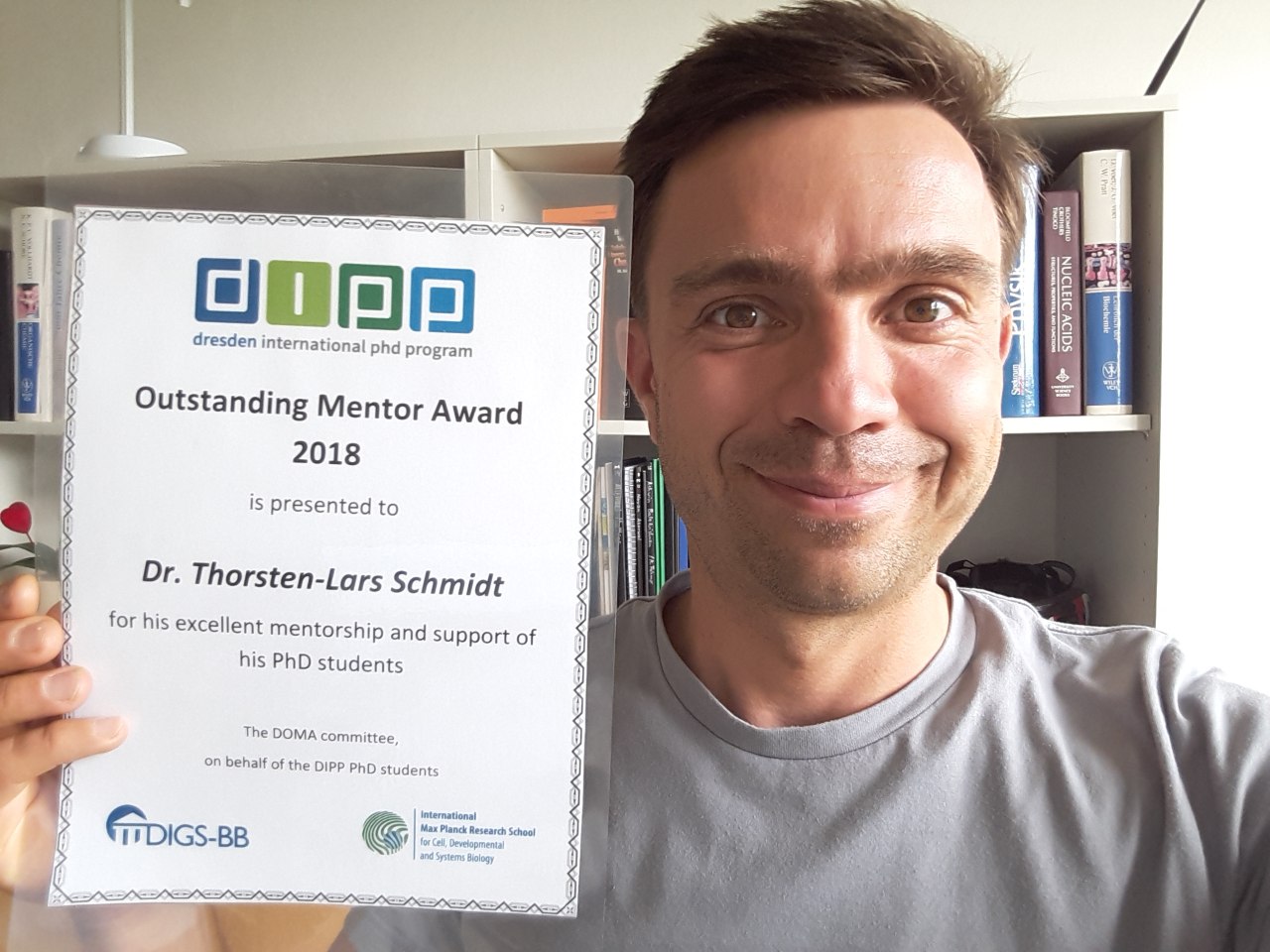 Thorsten receives the "Outstanding Mentor Award", which is awarded by a PhD student committe to the best mentors of the Dresden International PhD Program (DIPP) and the International Max Plack Research School. Thorsten thanks all group members for the nomination and their favourable ratings.
February 22: Nayan's and Micha's paper is out in ACS Nano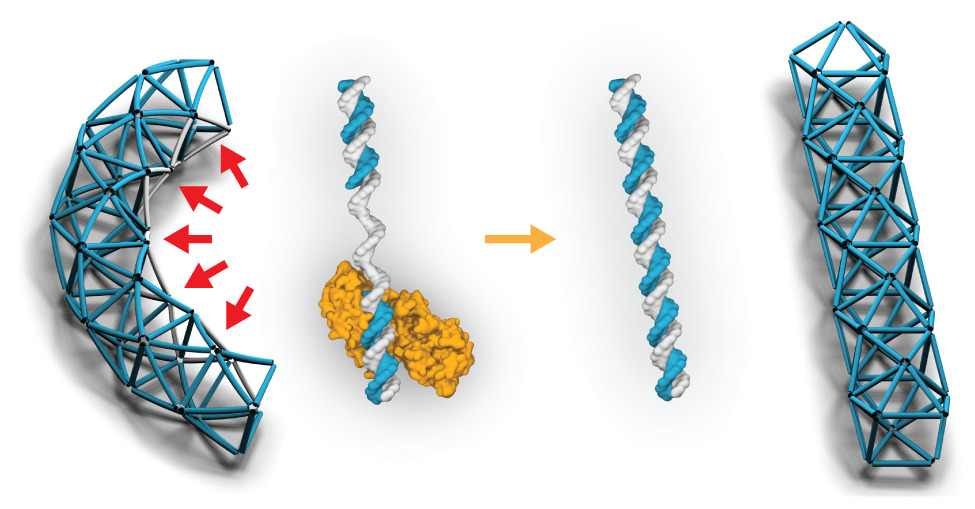 Congrats!
February 2018: Greek group lunch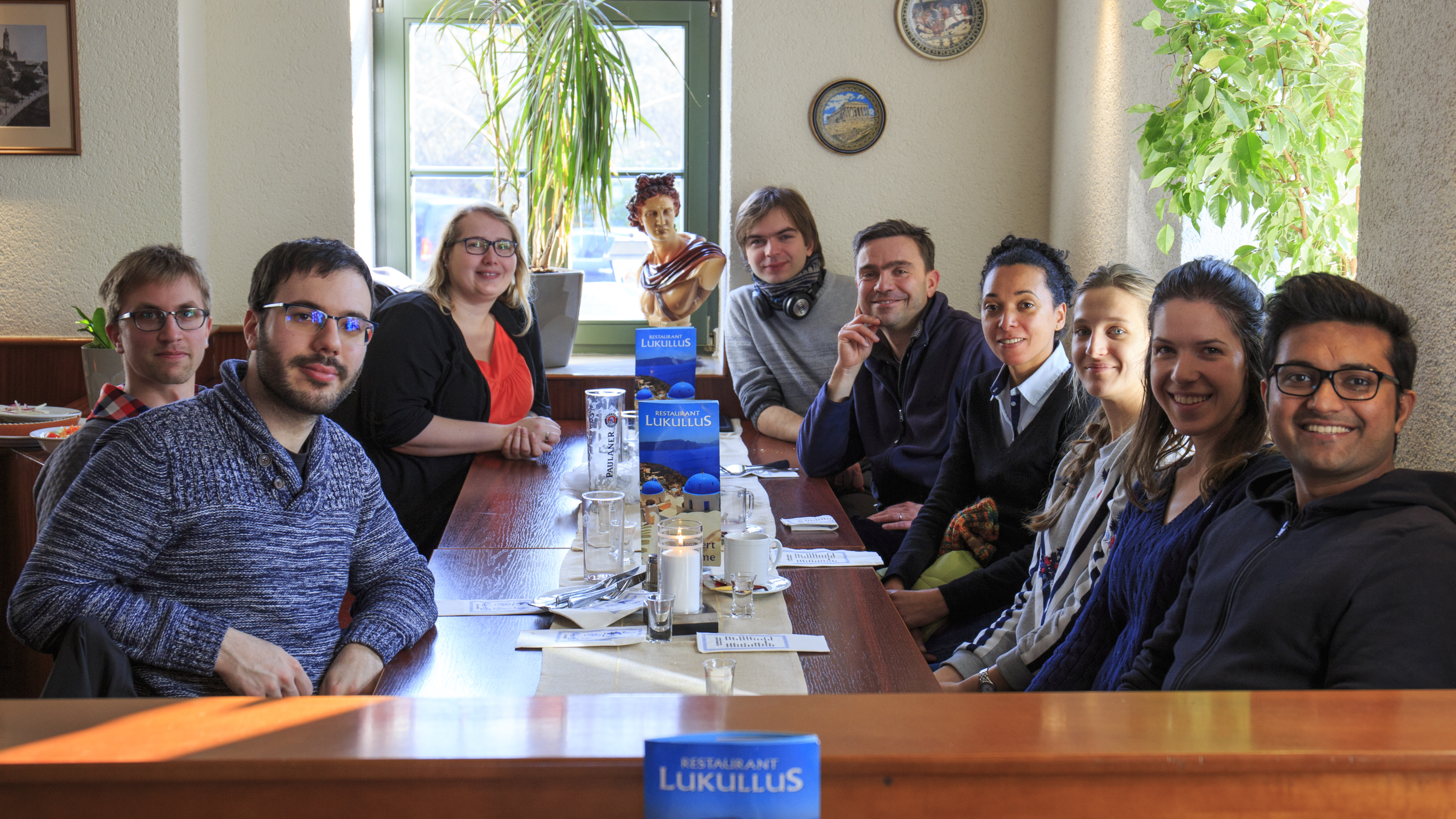 Katarina is visiting from New York for a few days just before Micha starts at ASU. Good timing.
Jan. 2018: "Kaffeeklatsch" at Bastian's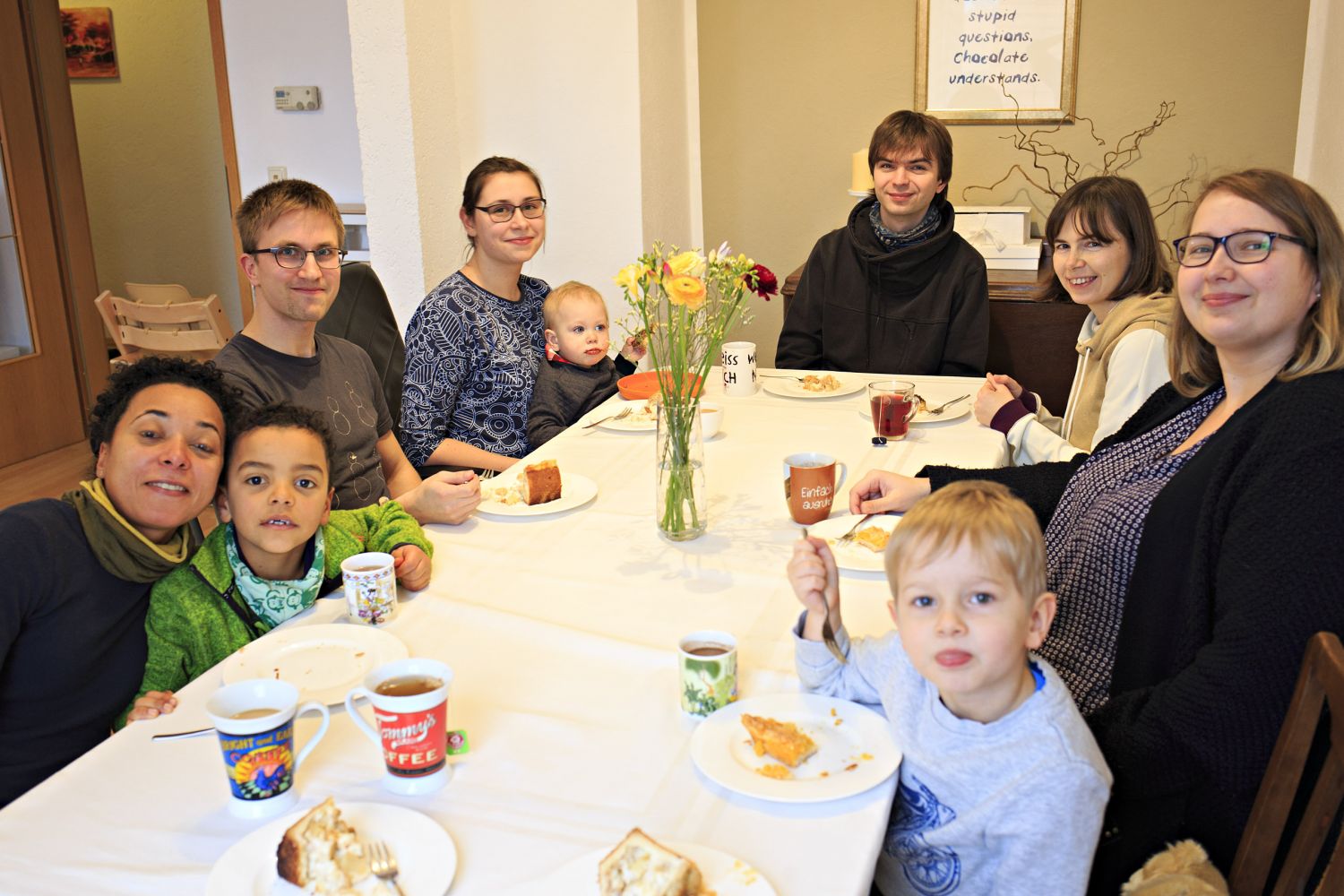 with fantastic, self-made cakes... Mhhh. Looking forward to Bastian's next paper.
Dec. 2017: at the X-mas market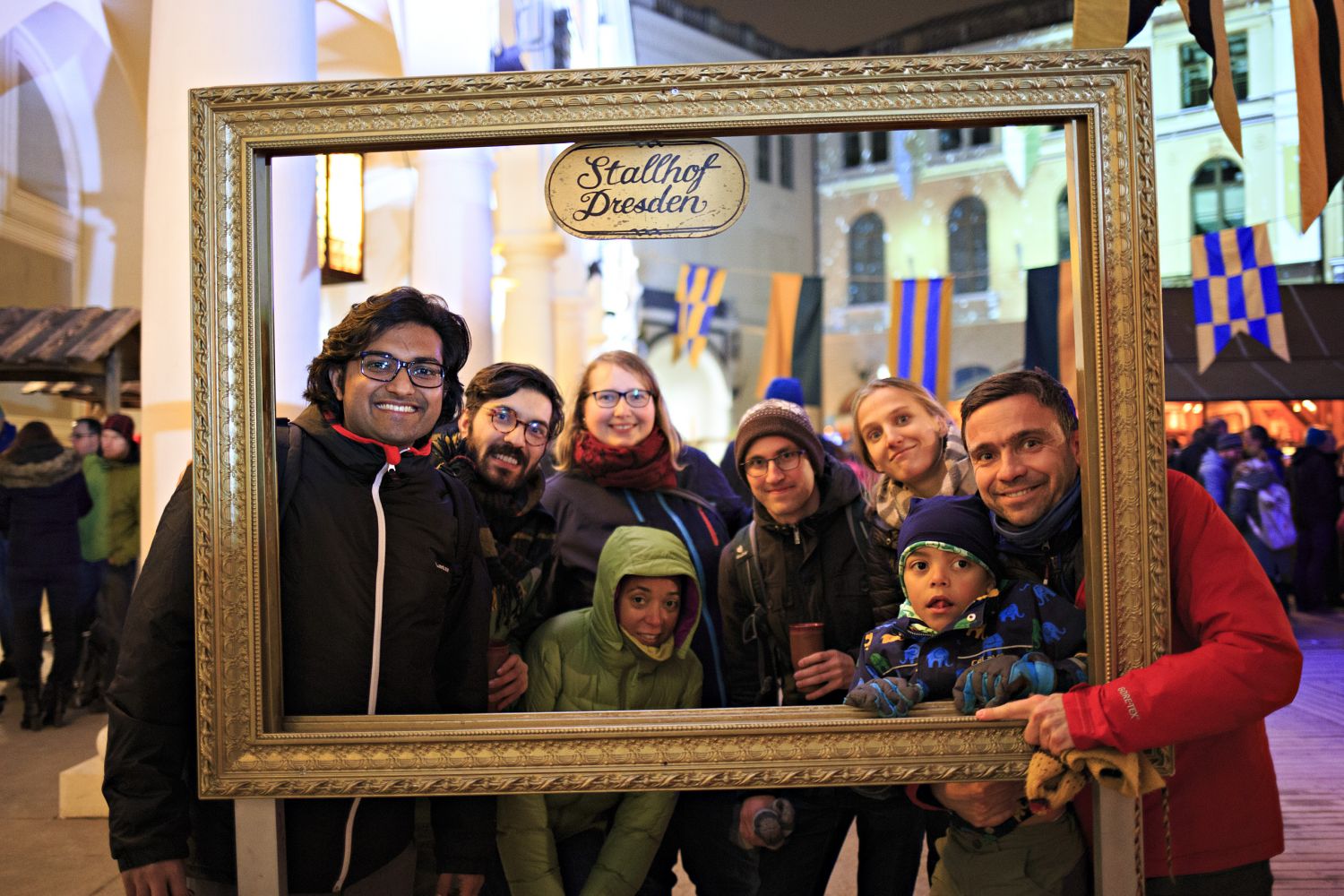 Dec. 2017: Katarina becomes visiting student at Rockefeller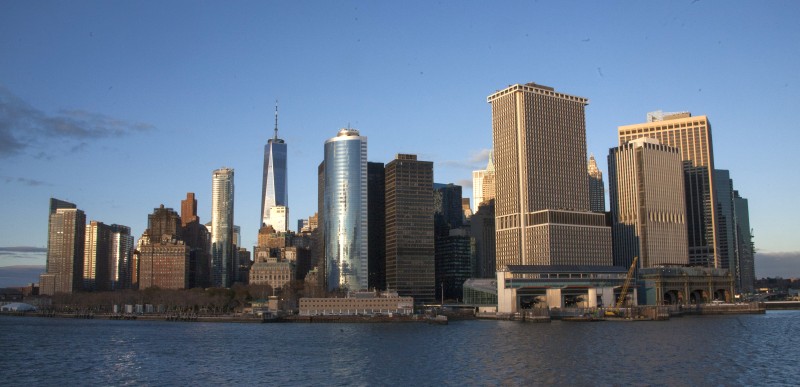 Katarina will spend 6 months in New York. May she come back with amazing new skills and fotos on my old camera.
Bastian's and Yavuz's Paper is out in Nucleic Acids Res.
Joffroy, B.; Uca, Y. O.; Prešern, D.; Doye, J.P.K; Schmidt, T. L. Rolling circle amplification shows a sinusoidal template length dependent amplification bias. https://doi.org/10.1093/nar/gkx1238
Big thanks also to our collaborators Jon Doye and Domen Presren in Oxford (oxDNA).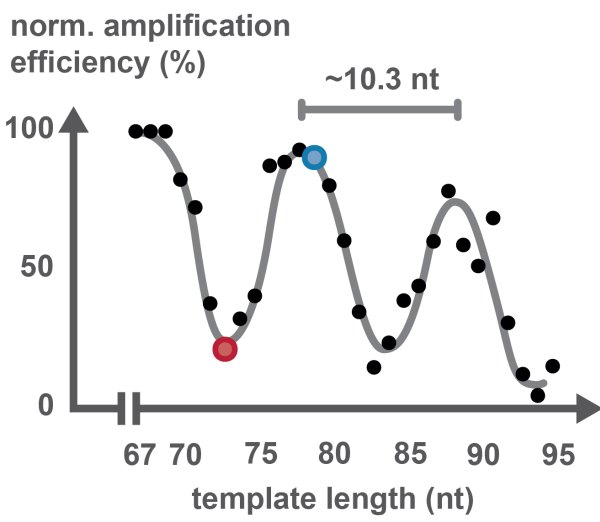 Nov. 2017: Thorsten receives TUD Young Investigator Status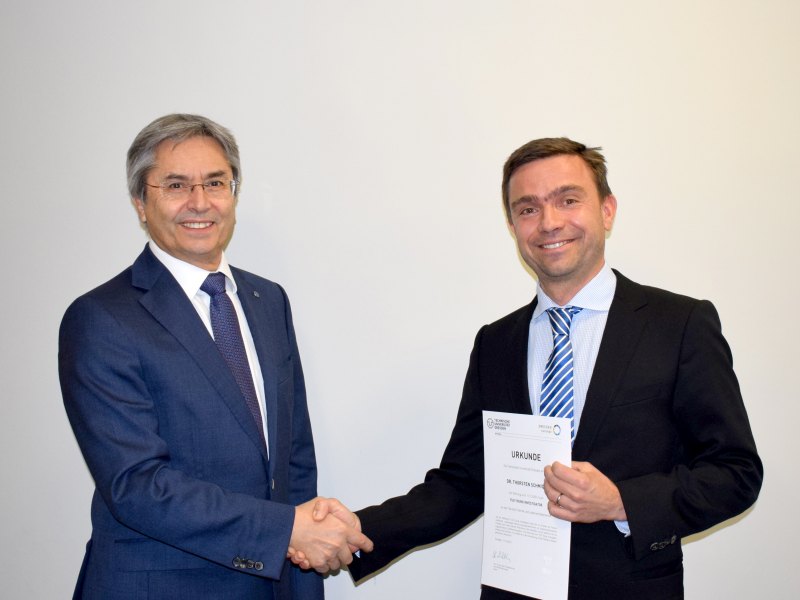 More about this at the cfaed news site.
Sept. 2017: Olga Aftenieva joins the lab, welcome!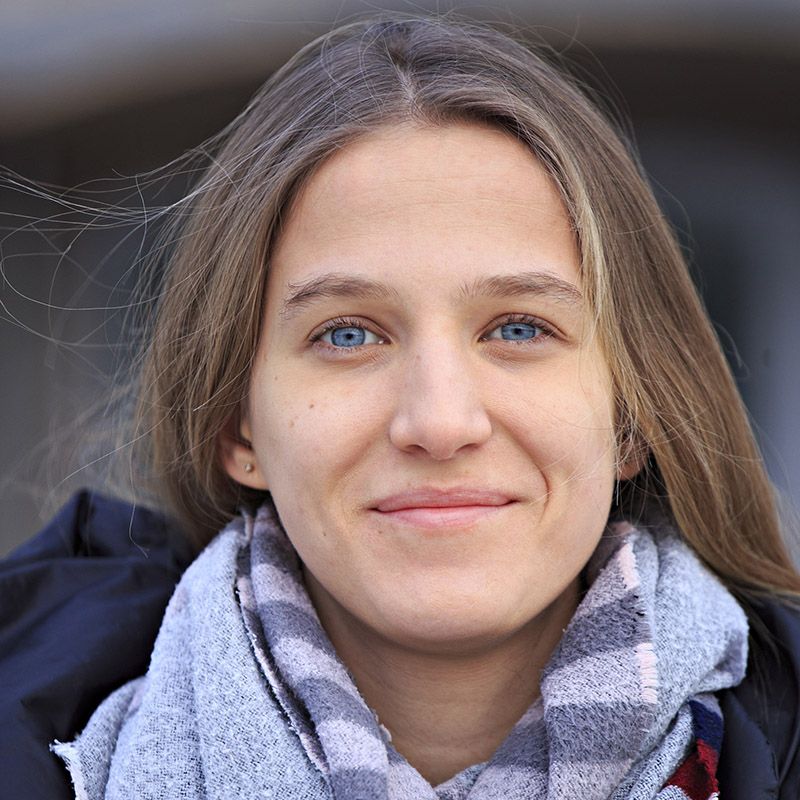 September 2017: Foram and Shikhar graduated. Congratulations!

And thanks for being in our group for almost 2 years. All the best for your future PhD theses.
July 2017: Katarina receives DIGS-BB fellowship
Katarina is the only awardee of the DIGS-BB fellowship, this year. Congratulations, Katarina!
June 2017: Diana's paper is out!
Gonçalves, D. P. N. et al. Enhanced Targeting of Invasive Glioblastoma Cells by Peptide-Functionalized Gold Nanorods in Hydrogel-Based 3D Cultures. Acta Biomaterialia 2017 (in print).
http://www.sciencedirect.com/science/article/pii/S174270611730346X
May 2017: Nayan's paper on block copolymer encapsulation is out!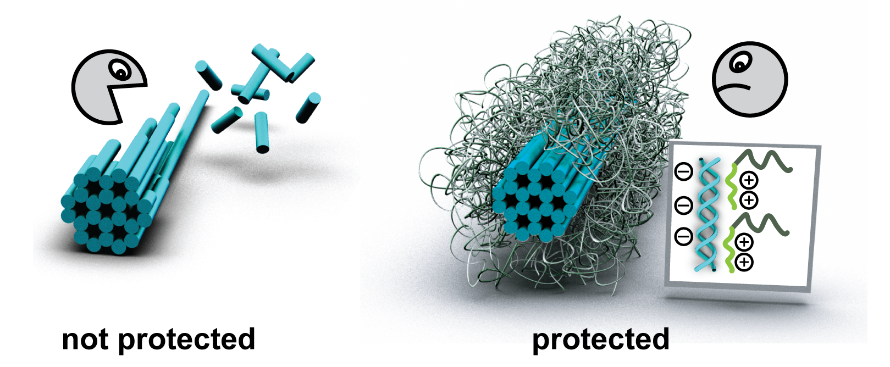 http://onlinelibrary.wiley.com/doi/10.1002/ange.201608873/full
Sept 2016: Nayan wins best poster award at DNA22. Congratulations!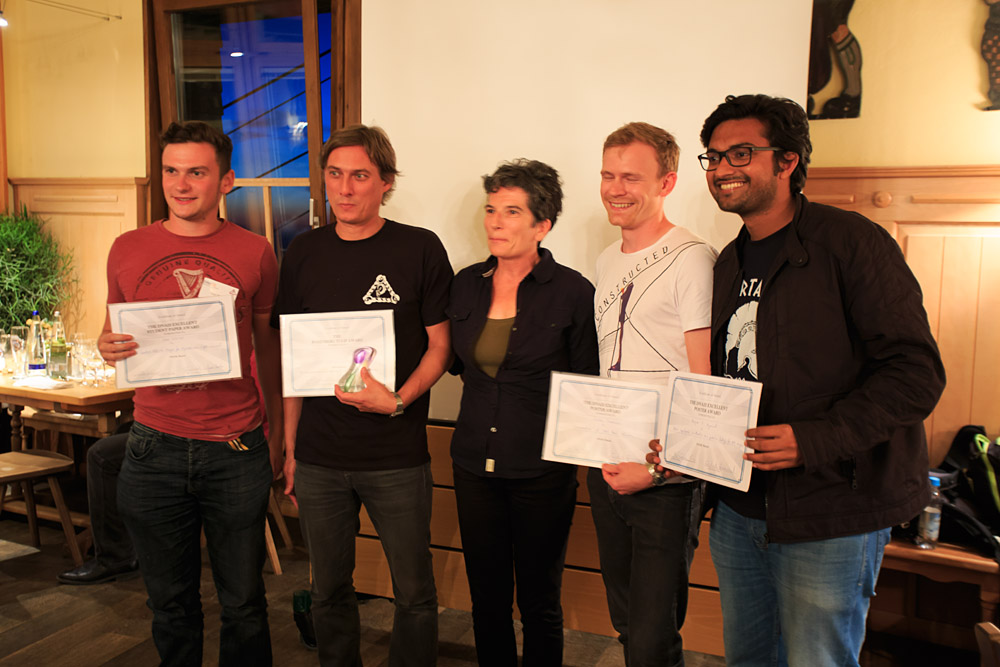 June 2016: Cherry picking lab outing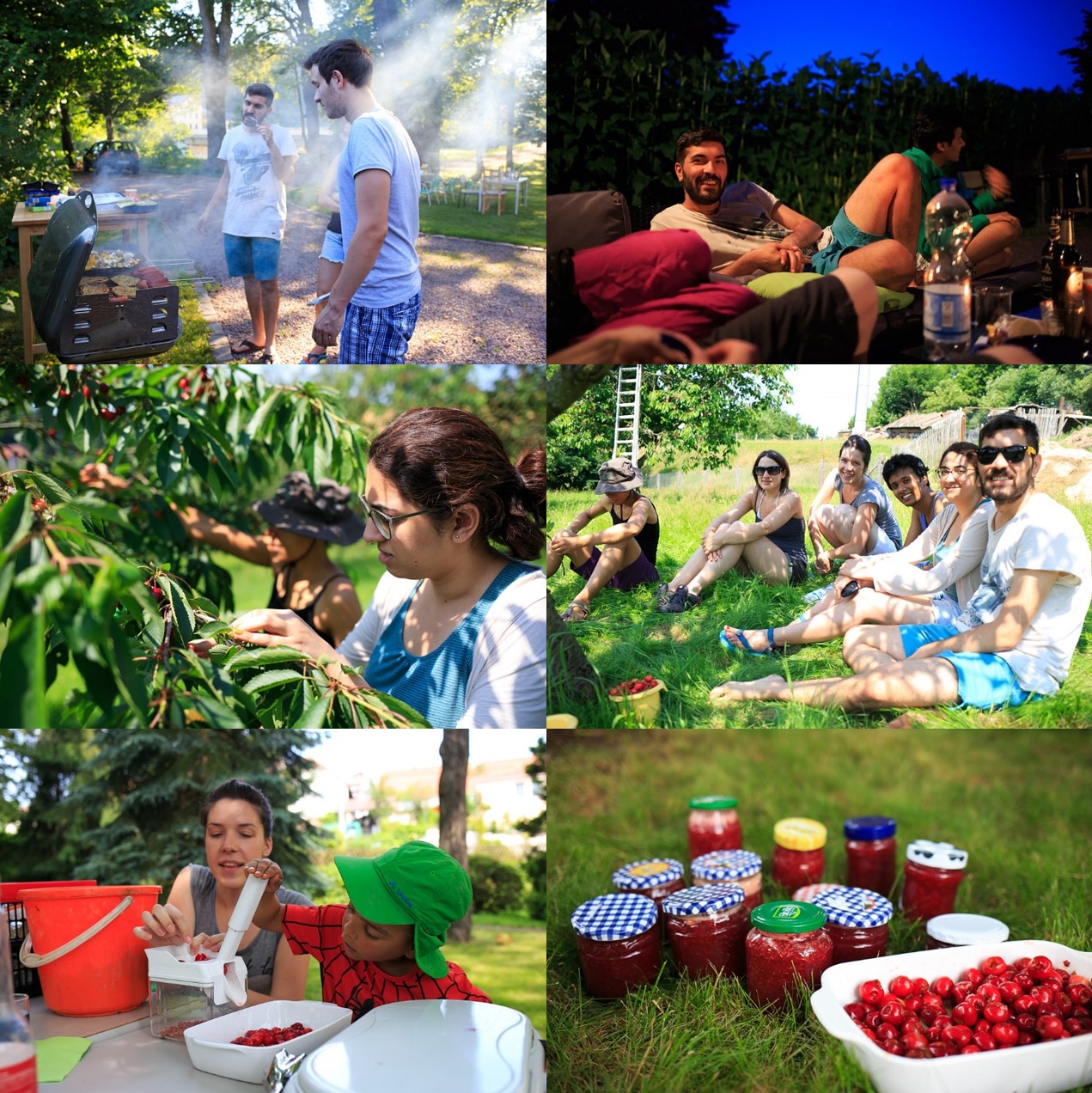 May 12: Fatih's new paper is out. Congratulations!
Toward Self-Assembled Plasmonic Devices: High-Yield Arrangement of Gold Nanoparticles on DNA Origami Templates. ACS Nano 2016.
Movie night with Chili con carne and chili non carne and non chili con carne. But all with chocolate. And wine. Yumm.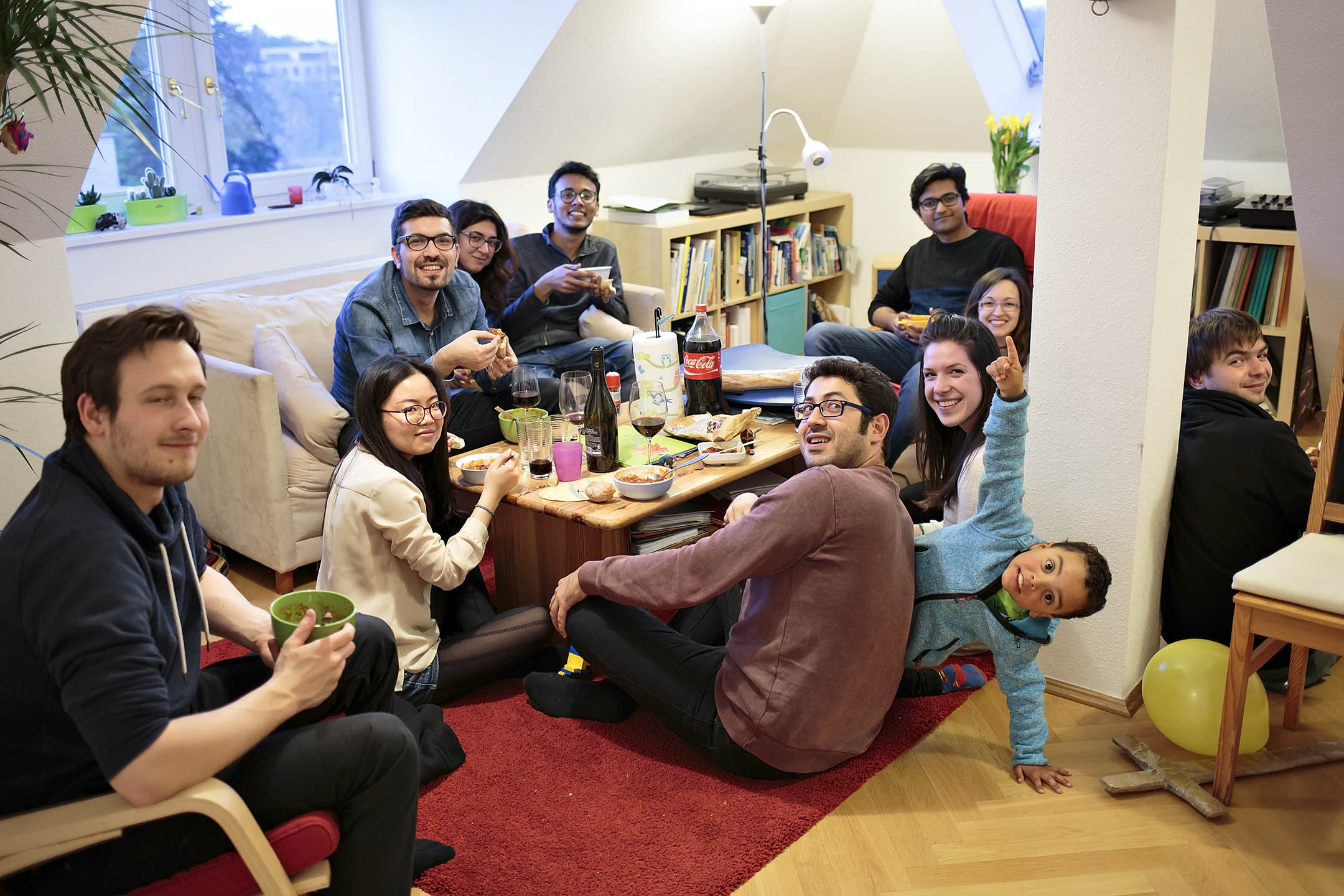 Guess what the geeks watched? Right. GATTACA.
The group in spring 2016

February 2016: Tokyo-Dresden workshop in Dresden
Hike in "Sächsische Schweiz"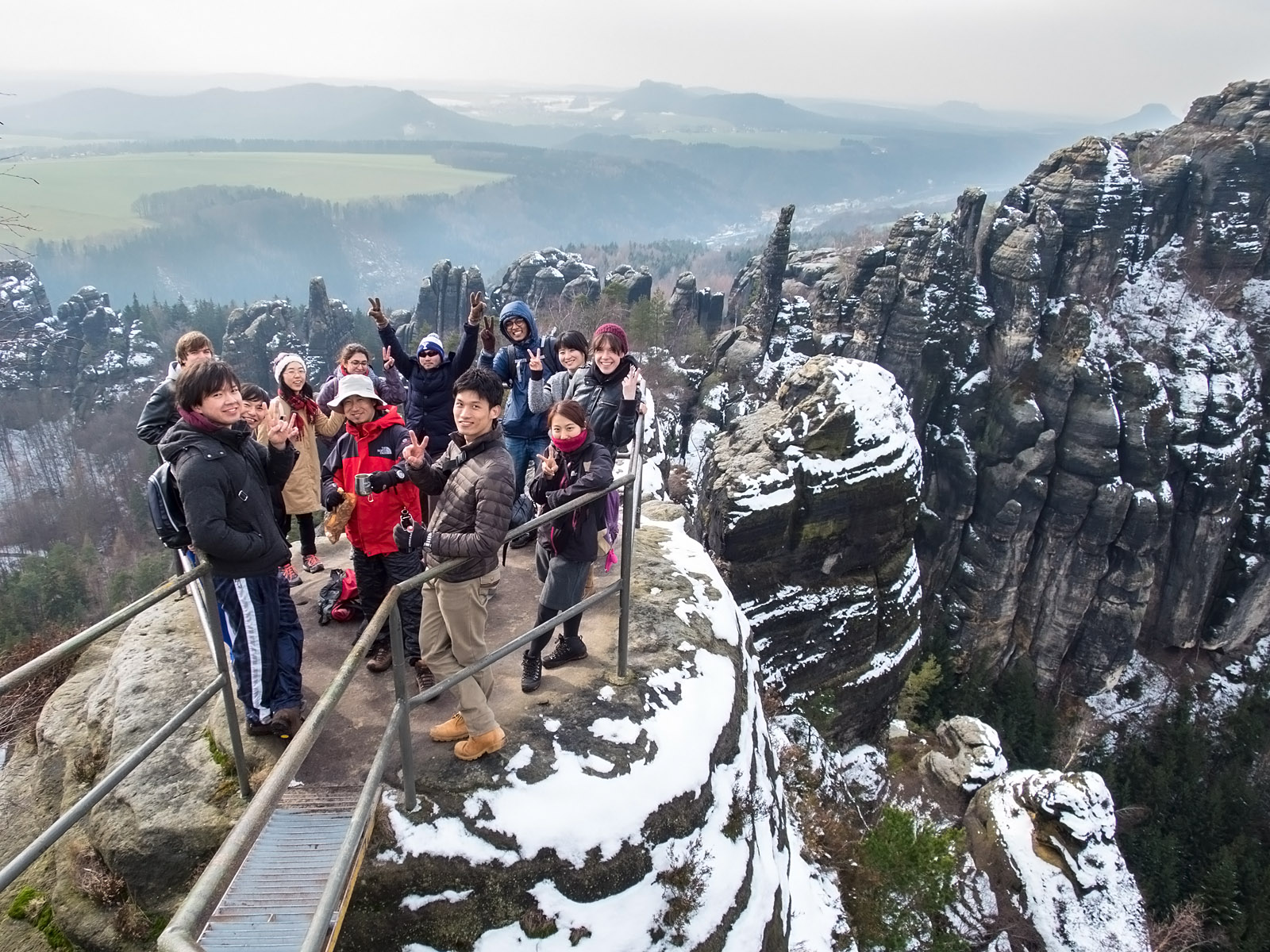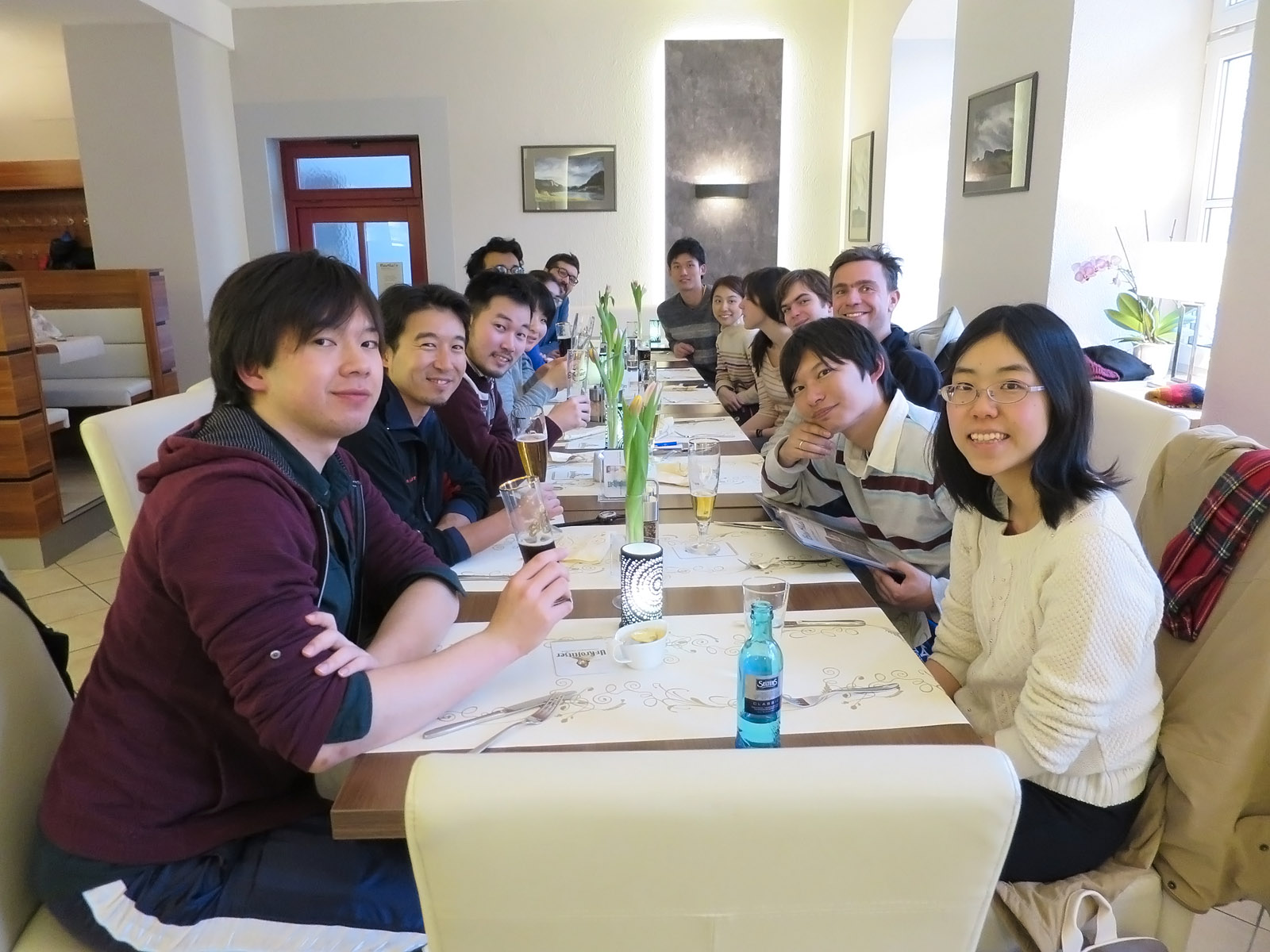 Feb. 2016: Michael's Paper is out.
Congratulations!
Design and Synthesis of Triangulated DNA Origami Trusses. Nano Letters 2016.

Jan 2016: Group Dinner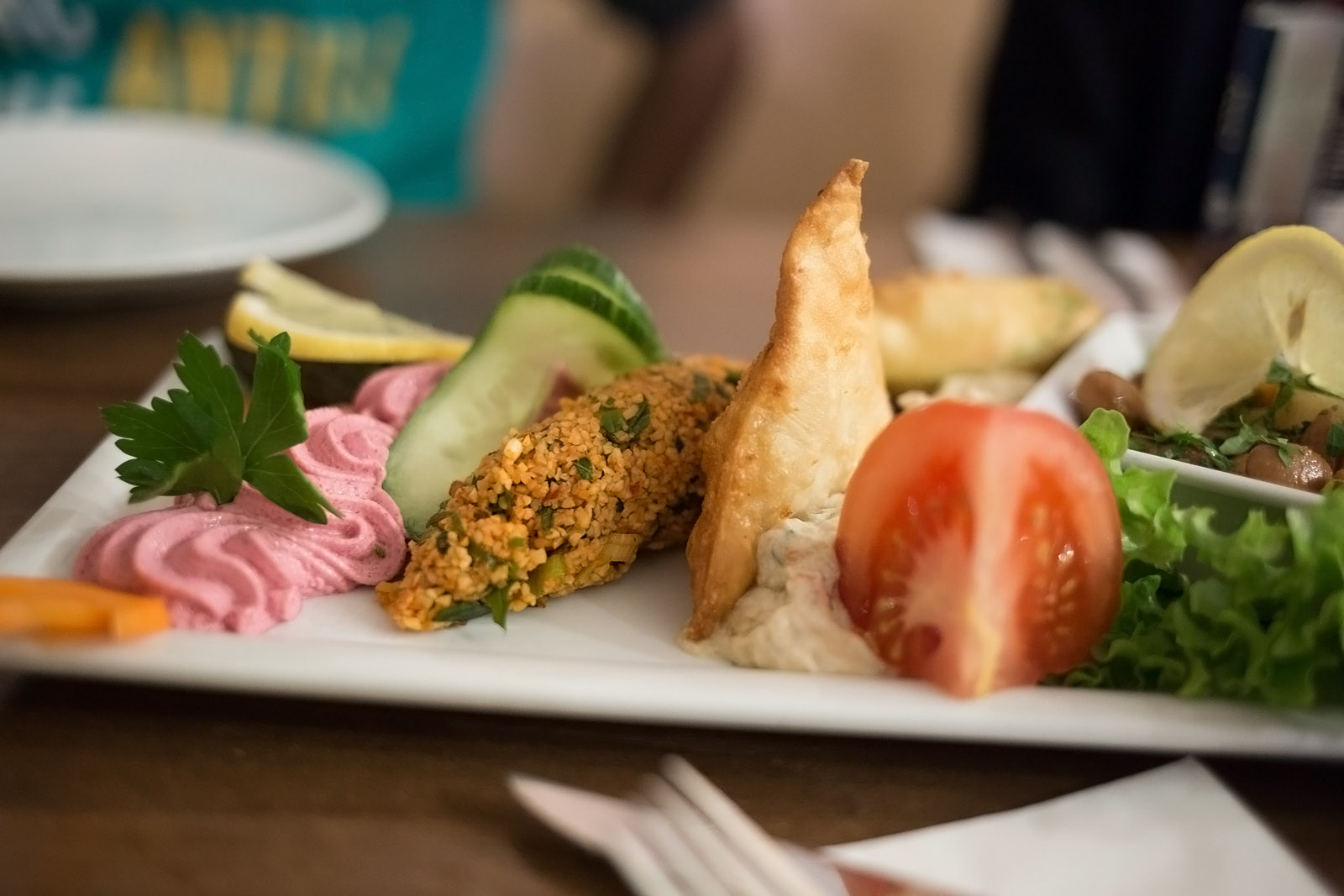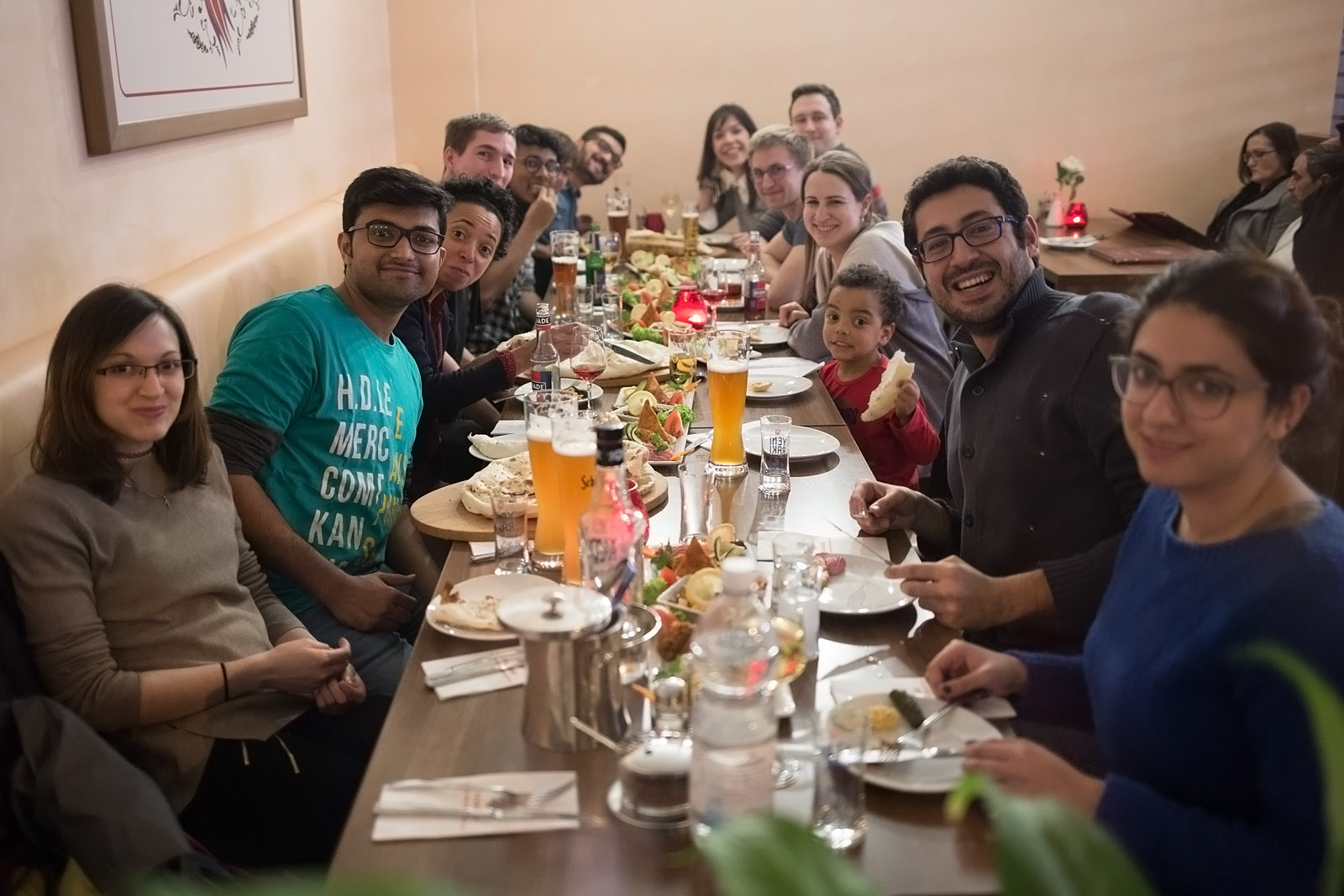 Jan. 13, 2016:
Welcome to the lab, Katarina!
December 11, 2015:
Fatih wins the prize for the best student poster at "DNA meets Plasmonics" in Bad Honnef. Congrats Fatih!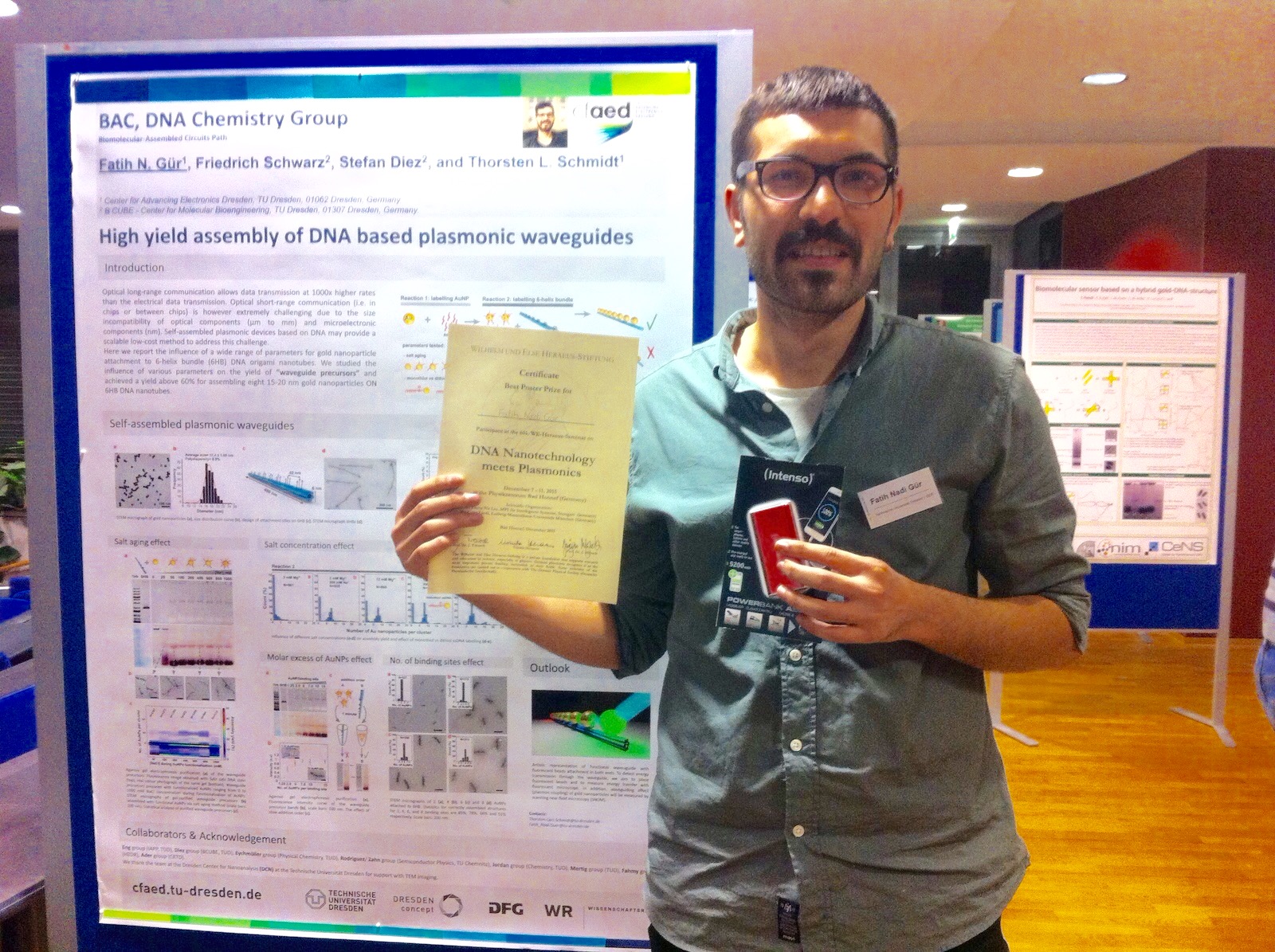 November:
Nobody got married.
But finally the circle-to-circle paper is out (Nature Communications 2015).
October 2015:
Congratulations to Jingjing, Nayan and Yavuz for graduating!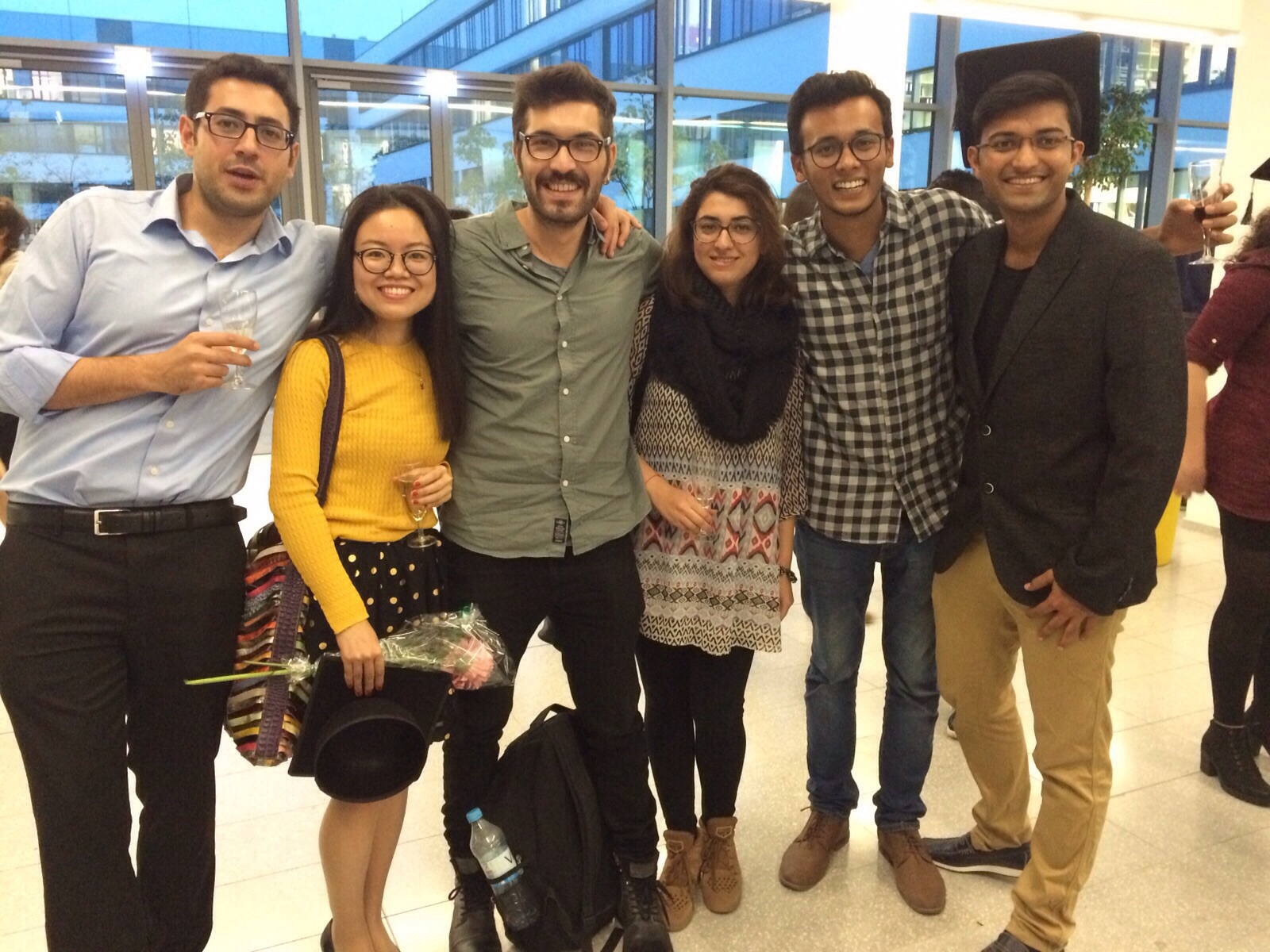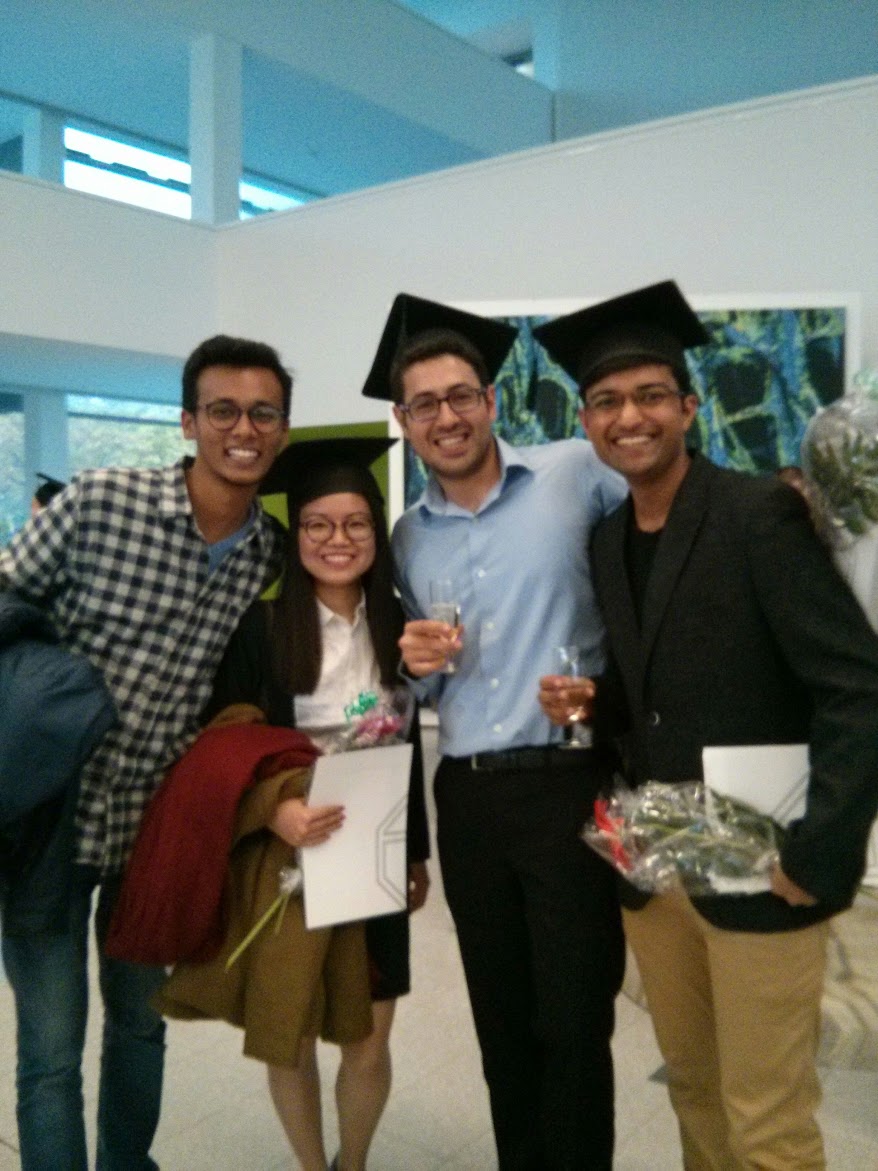 October 2015:
Oh my god, I think it is contagious. Michael also married...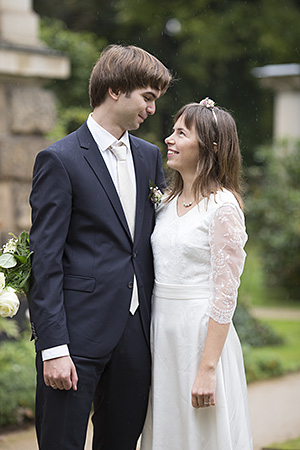 Sept:
Two new papers accepted: My postdoc paper on circle to circle amplification in Nat. Commun. and a collaboration with the Willner lab in Nano Letters.
August 8, 2015
Bad news, girls, Simon is not on the market anymore. Congratulations to Britta and Simon.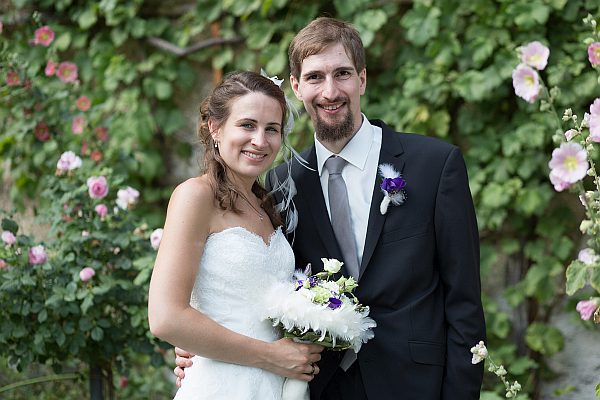 August 3, 2015:
Group dinner with Dave Smith's Lab (IZI Leipzig) at Foram and Shikhar's place with delicious home-made Indian goodies.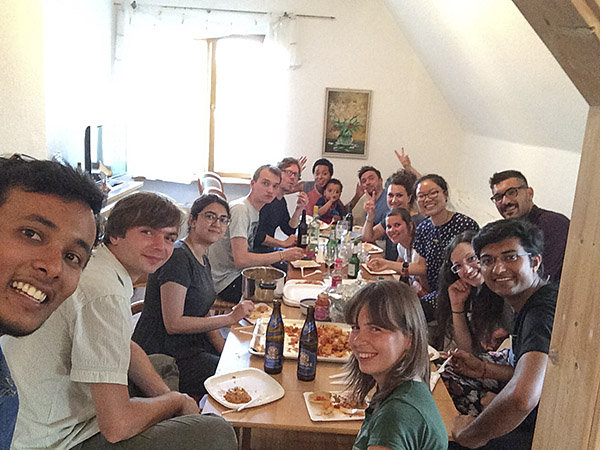 July 2015:
We are having the healthiest group lunch thanks to Simon's donation of a huge pile of organic veggies from his garden.
Yumm.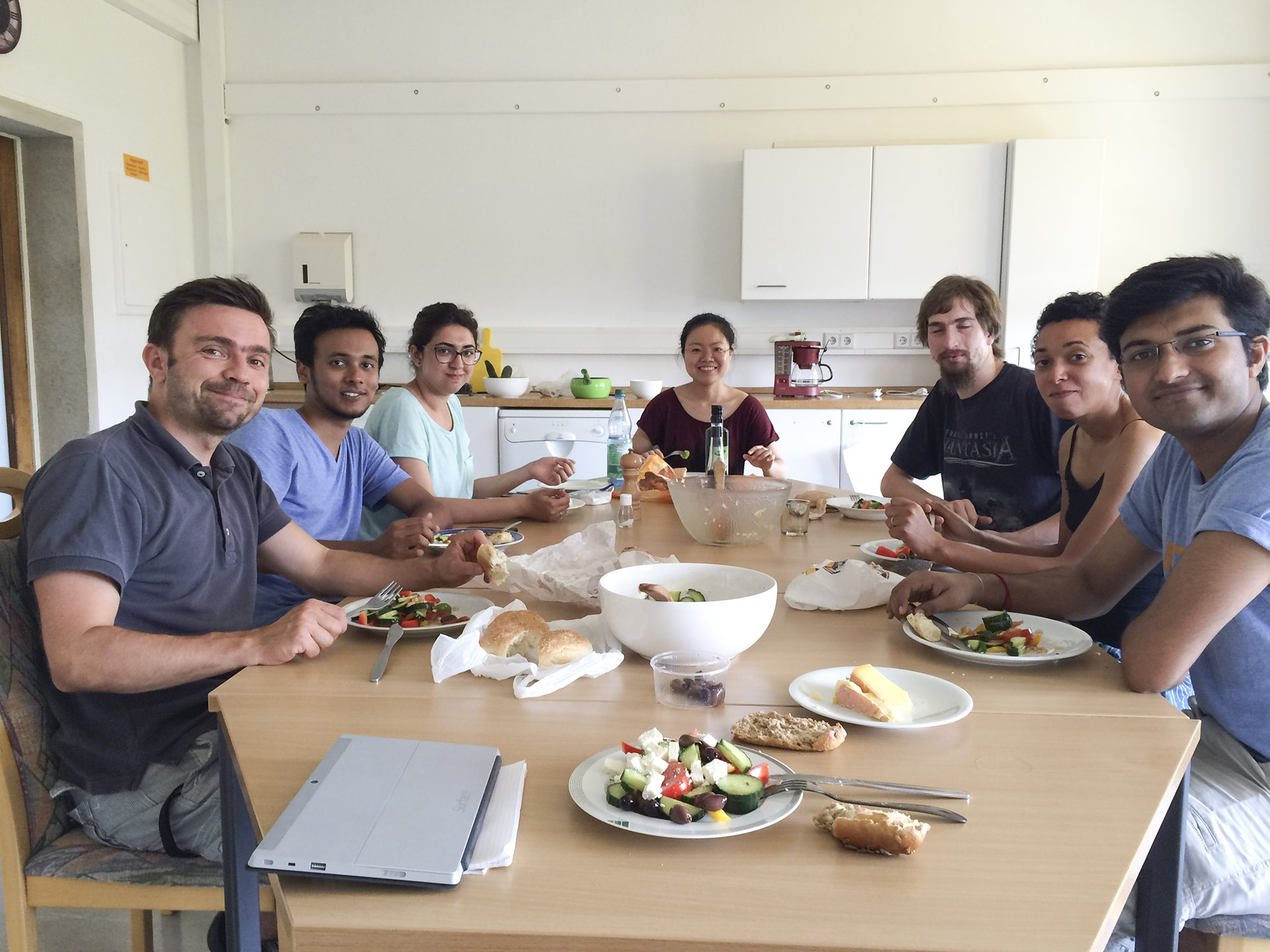 June 2015: Group retreat in "Spreewald".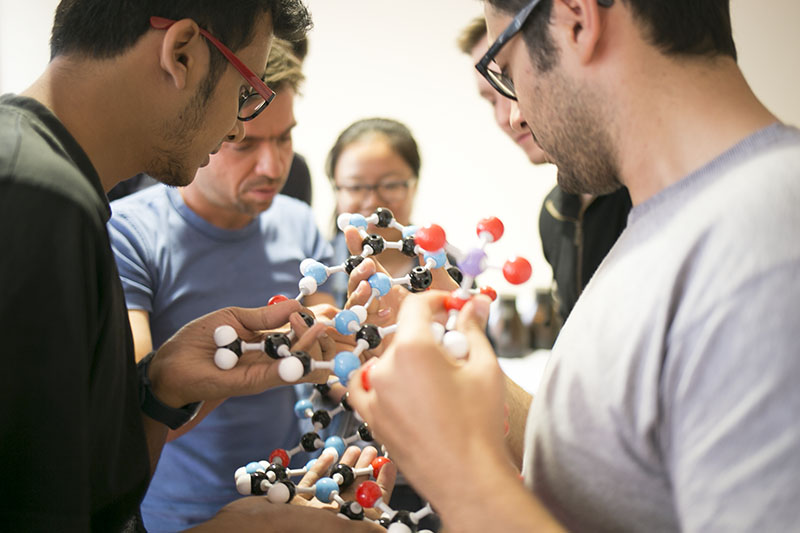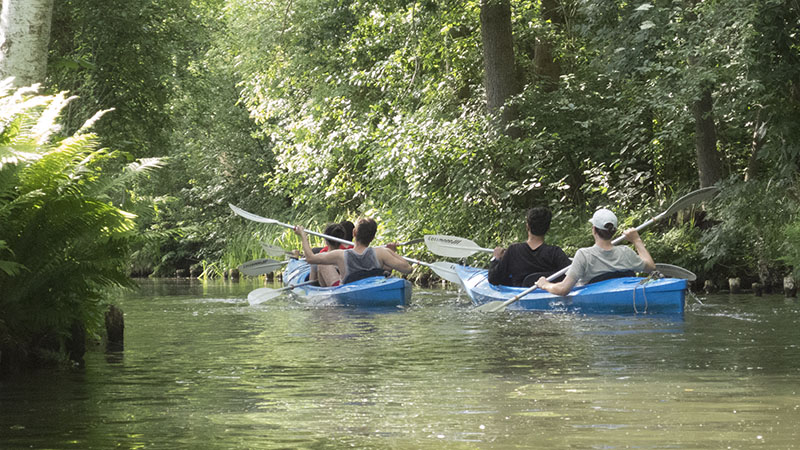 Biomod team 2014
We are proudly hosting Dresden DNAmic, this year's BIOMOD team.
Congratulations for winning the second prize and the prize for the best website (scientific content)!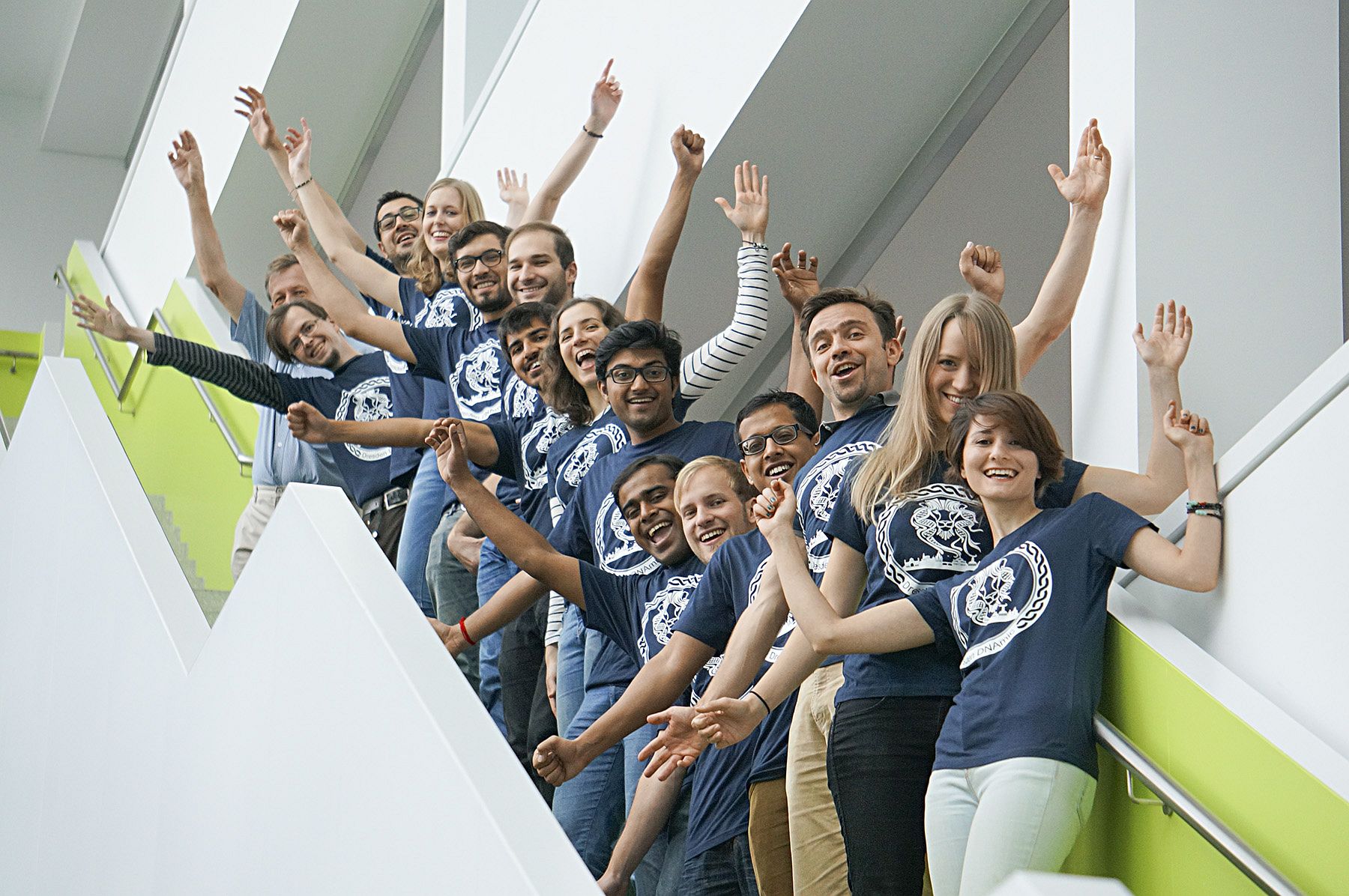 See the Press Release for the Award.
---
June 2014: Lab reatreat at St. Marienthal