Supporting Statements for cfaed (Excellence Initiative 2012-2019)
Minister's Keynote
The Excellence Initiative of the German Federal and State governments has opened a chance for universities to excel in the international competition. TU Dresden has taken on this challenge and used it as an opportunity to become one of Germany's elite universities.
During the past years of systematic funding for distinguished research topics, highly efficient research structures have emerged. The Cluster of Excellence cfaed has grown into one of the global players in the area of microelectronics research and strengthens not only TU Dresden but also Dresden as Europe's largest hub for microelectronics. cfaed has attracted international top researchers and achieved influential results. Dresden has gained an international reputation for excellent research, state-of-the-art foundries and, most importantly, the close-knit network of industry and research institutions working together: fundamental and applied research on information processing and communication at TU Dresden, Leibniz, Fraunhofer, and Max Planck Institutes - this innovative DRESDEN-concept is a platform which provides excellent facilities leading to ingenious results. It creates a unique science spirit in Dresden that disperses into the global science community.
cfaed thrives on this spirit and first results pique curiosity: so in order to follow emerging new developments, the support of developing sustainable structures must be paramount for the Free State of Saxony. I therefore fully support cfaed's aim to become an international visible platform for advancing ideas in the field of microelectronics research and promise my commitment for this endeavor.
Best Wishes,
Dr. Eva-Maria Stange
Saxon State Minister of Higher Education, Research and the Arts
(2016)
Rector's Statement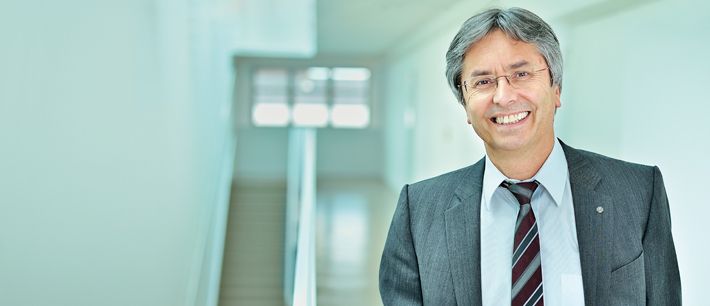 Photo: Frank Johannes
As the Rector of the only University of Excellence in the states of the former East Germany, I am particularly proud about the very high quality and motivation of our researchers and young scientists, who shape the image of our university. These bright minds are spreading the word about the strength of TU Dresden and the unique possibilities in the Science State of Saxony. And even though the Cluster of Excellence cfaed is still a very young platform, it nevertheless has developed over the past three years into an internationally recognized center for microelectronics research. And with that, cfaed has grown into a flagship of our University.
I am deeply impressed by the commitment and dedication of the staff of cfaed with respect to their research work and their Cluster. The support of TU Dresden in terms of resources and structures is becoming increasingly visible, not at least through the progressing work on the new cfaed building which is financed by the Free State of Saxony. Once completed, it will unite natural scientists and engineers with a wide range of expertise and will become a truly concrete example for the synergies that are raised by the renowned cooperation between the University and the local world-class government research laboratories, the so-called DRESDEN-concept.
TU Dresden and the whole region will benefit from the forthcoming successes of cfaed, which will help to establish the University as a leading research center and strengthen the competitive industrial edge of Silicon Saxony, in the areas of microelectronics and semiconductors.
With this, I wish cfaed all the best for the coming years!
Hans Müller-Steinhagen
Prof. Dr.-Ing. habil. DEng/Auckland Dr. h.c./Brno
Rector of Technische Universität Dresden
(2016)
Coordinator's Statement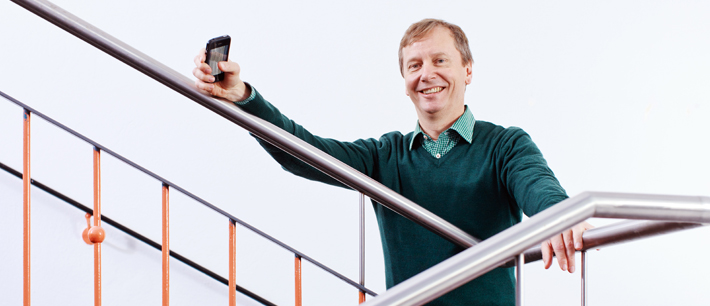 Our Cluster has developed tremendously since its start of the funding period in 2012. I am proud that cfaed has already gained an international reputation as the place to go for advanced microelectronics research on beyond CMOS solutions. Our unique approach of integrating discoverydriven natural sciences and innovation-driven engineering, the international superstars we have recruited and the groundbreaking research results have helped to make cfaed visible and to promote it to a feisty player in the global scientific competition.
The enthusiasm of Cluster members during the past three years has truly impressed not only me but also those who were initially quite skeptical about our integrative, interdisciplinary approach and have now become convinced that cfaed's evergreen comprehensive 'More-shots-on-goal'- approach is indeed successful. Researching new and emerging materials, however jointly being investigated by circuit designers and system engineers, is a unique way of looking at the full development chain, from materials to systems.
Our investigators are publishing influential work in the subjects' most important journals: scientific breakthroughs include the first flexible light weight diagnostic platform and the world´s first universal transistor, fusing n- and p- type behavior with equal performance into a single device or the organic inversion field effect transistor. These achievements are being recognized by several prizes, important grants such as an ERC Advanced Grant, and international recognitions such as 'Highly-cited Researcher 2015'.
We have hired four strategic professors who will boost our work with new ideas and lead to dynamic ways of thinking and approaching new tasks. Their groups are growing exceptionally fast which is an excellent sign of the scientific popularity of the cfaed professors and vibrant network surrounding them.
Our distinct Career Development Program has supported young scientists and helped them to find their way, starting with the PhD degree, on to excelling their scientific careers until they will arrive in the desired position. We can already refer to several personal success stories based on our support measures.
The past three years were certainly two of the most memorable ones in my professional life: scientifically and personally challenging yet academically rewarding and satisfying. I invite you to glance through our midterm report and read about scientific results and personal achievements and to gain an overview of our work. We are always open to criticism, advice and constructive discussion and welcome your comments and any questions.
Sincerely Yours,

Prof. Dr.-Ing. Dr. h.c. Gerhard Fettweis
cfaed Coordinator
(2016)