Record number of participants, full digitization and renowned addition: cfaed's Microelectronics Summer School was a great success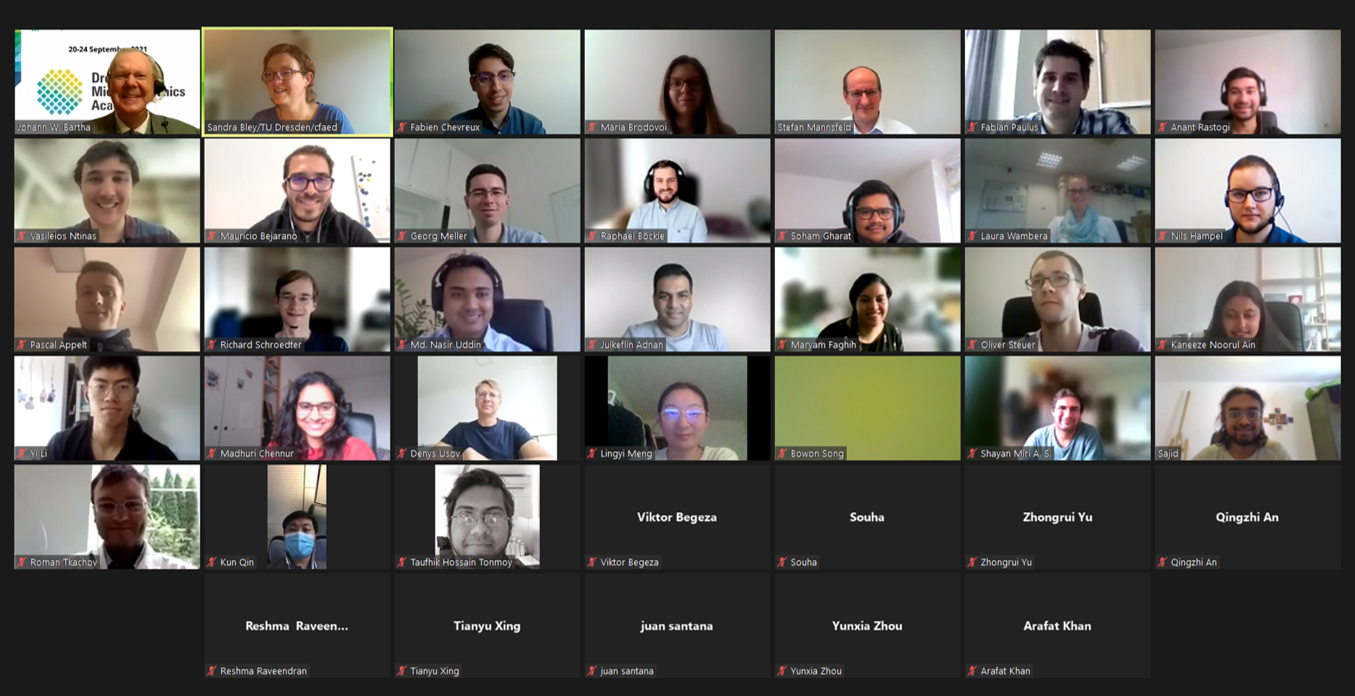 The 19th Dresden Microelectronics Academy (DMA) once again presented Dresden as Europe's most important semiconductor location:
Info on the 2021 participants:
56 participants
16 countries of origin
69 % graduate students, 15 % doctoral students, 11 % post-doc level
69 % male, 31% female
Fields of study: Electrical engineering, computer science, physics, chemistry, materials science
Read the complete Press Release here
The first fully online DMA was a full success with participants joining from various countries.
IMPRESSIONS
"Actually the knowledge and science is incredible and arrangement is very good, I would recommend that all undergraduate and graduate students in Egypt would join the summer school in Europe because it will advance knowledge and culture and break the fear of new places."
Mohammad Sharaf, Egypt-Japan University of Science and Technology (Egypt)
" I am impressed by the innovations that have lead to the current status and we will have a very exciting time ahead in the microelectronics industry. The talks gave us a very good overview about the development."
Tino Zimmerling, MPI CPfS (Germany)
"I had some insight about microelectronics fabrication process as a whole and it gives me inspiration to contribute to that industry."
Idham Hafizh, Polytechnic University of Milan (Italy)
"It was impressive to see the huge possibilities of physical and chemical characterization methods which can be used directly next to the production line. Besides it was interesting to hear something about development processes in the industry."
Kai Eckhardt, TU Dresden (Germany)
"I learned quite a bit, but it was intensive because we got a lot of information. The lab tour could be longer."
Catherine R. Rajamathi, MPI CPfS (India)
"It is a unique opportunity to visit companies that work on next generation of microprocessors. And one might not accept that this is all situated in and around dresden."
Paul Manstetten, TU Wien (Austria)
Let's have a look back at a successful DMA'19 – the 18th Dresden Microelectronics Academy – the cfaed summer school. What a colourful event it has been: more than 50 students, over 20 nationalities, academia, industry, career and culture. What more can you ask for.
The vibrant group of participants enjoyed 5 days packed with specialist talks, lab tours, career sessions, a guided city walk and a very entertaining and tasty evening with the managers of local semiconductor industry companies.
Image 1 / 20
Image 2 / 20
Image 3 / 20
Image 4 / 20
Image 5 / 20
Image 6 / 20
Image 7 / 20
Image 8 / 20
Image 9 / 20
Image 10 / 20
Image 11 / 20
Image 12 / 20
Image 13 / 20
Image 14 / 20
Image 15 / 20
Image 16 / 20
Image 17 / 20
Image 18 / 20
Image 19 / 20
Image 20 / 20
Here's a teaser video for the Dresden Microelectronics Academy! We produced it in September 2016 while the 15th DMA was running. Feel the spirit and join the next DMA!