About Us
Welcome to the Chair for Molecular Functional Materials. This is a professorship in the context of the cluster of excellence cfaed – "Center for Advancing Electronics Dresden".
It is headed by Prof. Xinliang Feng.
Chair News
Atomically Dispersed Nickel–Nitrogen–Sulfur Species Anchored on Porous Carbon Nanosheets for Water Oxidation
Published on April 9, 2019
Exploring earth-abundant, active and stable electrocatalysts to replace noble metal catalysts for oxygen evolution reaction (OER) through alkaline water photoelectrolysis and electrolysis system is a key to develop sustainable energy conversion technologies. Despite certain progress made in the development of heteroatom-doped carbon materials in the past, especially the transitional metal-N (TM–Nx) doped nanocarbons catalysts, the application of TM–Nx-doped nanocarbons in OER electrocatalysis is in infancy, and the overall catalytic performance of TM–Nx-doped nanocarbons is far from satisfactory for practical applications.
Here, Prof. Dr. Xinliang Feng (Technische Universität Dresden, Germany), Prof. Dr. Yang Hou (Zhejiang University, China), and colleagues report a 2D nanocarbon hybrid electrocatalyst comprised of atomically dispersed Ni atoms coordinated with three nitrogen and one sulfur atoms in porous carbon nanosheets (S|NiNx-PC). Benefiting from the abundant porous architecture and well-distributed active sites, the achieved S|NiNx-PC/EG nanosheets electrode displays outstanding electrocatalytic activity and durability for OER with a low overpotential of 1.51 V at 10 mA cm-2 and a small Tafel slope of 45 mV dec-1 in alkaline media. The overpotential for the S|NiNx-PC/EG is the lowest among all heteroatom- and/or transition metal-doped carbon electrocatalysts for OER reported thus far, and it even surpasses the state-of-the-art commercial Ir/C catalyst. Moreover, an integrated photoanode of nanocarbon on a Fe2O3 nanosheet array enables highly active solar-driven oxygen production.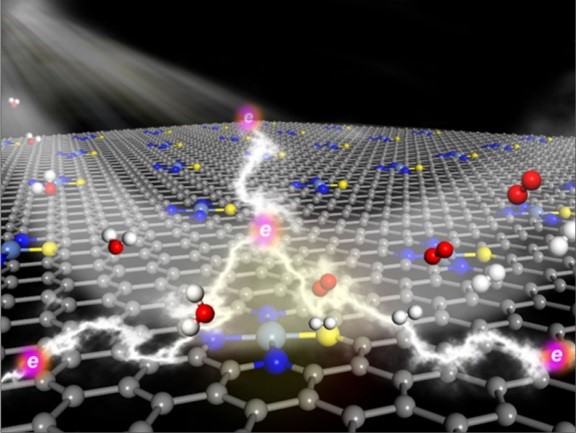 Experimental results reveal that the well-dispersed molecular S|NiNx species act as active sites for catalyzing OER, where the incorporated S atoms can effectively tune the hybridization state of the Ni and N atoms and enhance the electron transfer, thus synergistically promoting the oxidation kinetics. Theoretical calculations manifest that the coordination of Ni–Nx centers hybridized with that of neighboring S atom creates sufficient localized reactive sites by modifying the local charge distribution on the carbon surface and reducing the potential barriers of the elementary reactions, thereby boosting its OER kinetics. More importantly, the accurate atomic structure of isolated Ni atoms coordinated with three N atoms and one S atom in the carbon matrix for the S|NiNx active centers is clearly disclosed by aberration-corrected scanning transmission electron microscopy, atomic electron energy loss spectroscopy and synchrotron radiation X-ray absorption spectroscopy together with DFT-simulated scanning tunneling microscopy. This work was published at Nat. Commun. 2019, doi: 10.1038/s41467-019-09394-5.
Dr. Lucia Gemma Delogu received call for Professorship in Padua
April 4, 2019
Dr. Lucia Gemma Delogu has received a call for professor in Biochemistry with tenure track at the Department of Biomedical Sciences at the University of Padua Italy.
Advanced Materials Hall of Fame laureates highlighted on Advanced Science News
January 17, 2019
Advanced Materials Hall of Fame laureates highlighted on Advanced Science News
2nd Graphene Flagship EU-China Workshop was held in Dresden
December 13, 2018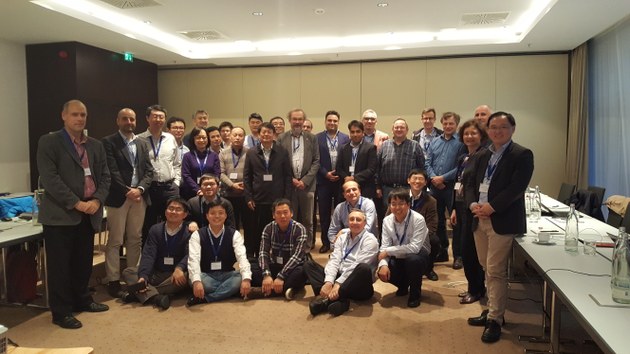 The 2nd Graphene Flagship EU-China Workshop on Graphene and related 2D materials was held on 07-08 December 2018 at Pullman Hotel in Dresden organized by Graphene Flagship and Chair of Molecular Functional Materials (Prof. Xinliang Feng).
During the workshop speakers from China and European countries presented their current works and exchanged their experiences and ideas related to the current and emerging topics associated with the fundamental materials synthesis, physics and devices for graphene and related 2D materials. At the end of the workshop, Chinese and European speakers have built new collaborations base on the presented works in the workshop.
Dr. Zhen Zhang received the prestigious Humboldt Research Fellowship for Postdoctoral Researchers
November 27, 2018
The Humboldt Research Fellowship is awarded to researchers from abroad with above average qualifications and who are at the beginning of their career. By being granted this fellowship, Dr. Zhen Zhang, will receive financial support for two years to carry out his research in the research group of Prof. Xinliang Feng at Technische Universität Dresden.
Highly Cited Researcher 2018
November 27, 2018
Prof. Dr. Xinliang Feng has been listed as highly cited researcher in 2018 for his research performance demonstrated by the production of multiple highly cited papers that rank in the top 1% by citations for field and year in Web of Science.
Highly Cited Researchers 2018 (list)
Fluoride-Free Synthesis of Two-Dimensional Titanium Carbide (MXene)
Published on October 18, 2018
MXenes are a fascinating class of two-dimensional (2D) materials that consist of few atoms thick layers of transition metal carbides, nitrides or carbonitrides. They have aroused increasing attention due to their unique combination of hydrophilic properties and good electrical conductivity. The production of MXene relies on chemical etching of aluminium (Al) layers from titanium aluminium carbide (Ti3AlC2, a MAX phase). Although diverse etching conditions have been identified, the state-of-the-art strategies require the handling of hydrofluoric acid or fluoride-based compounds, which result in highly toxic and corrosive liquid waste, and the functionalization of Ti3C2 surfaces with fluorine- and oxygen-containing terminations. Along with the considerable safety issues, fluoridated etchants have negative impact on the specific capacitance of etched materials when used as electrodes for supercapacitors.

To address these problems, researchers from Technical University of Dresden (Chair for Molecular Functional Materials) and collaborators have developed an efficient electrochemical strategy to prepare Ti3C2Tx (T=O, OH) (MXene) in a binary aqueous system. The anodic etching of Al atoms followed by the replacement with hydroxide groups enable the formation of single or bilayer sheets with high yield (>90 %) and large average dimension. The results are comparable or even better than those made from classic etching techniques using HF or LiF/HCl. For the use as energy storage materials, all-solid-state supercapacitors assembled with Ti3C2Tx films deliver a high areal capacitance of 220 mF cm-2 (scan rate: 10 mV s-1). More importantly, this method does not require any dangerous fluoride-containing agents or harsh etching conditions, therefore it is appealing for the practical production of novel MXene materials.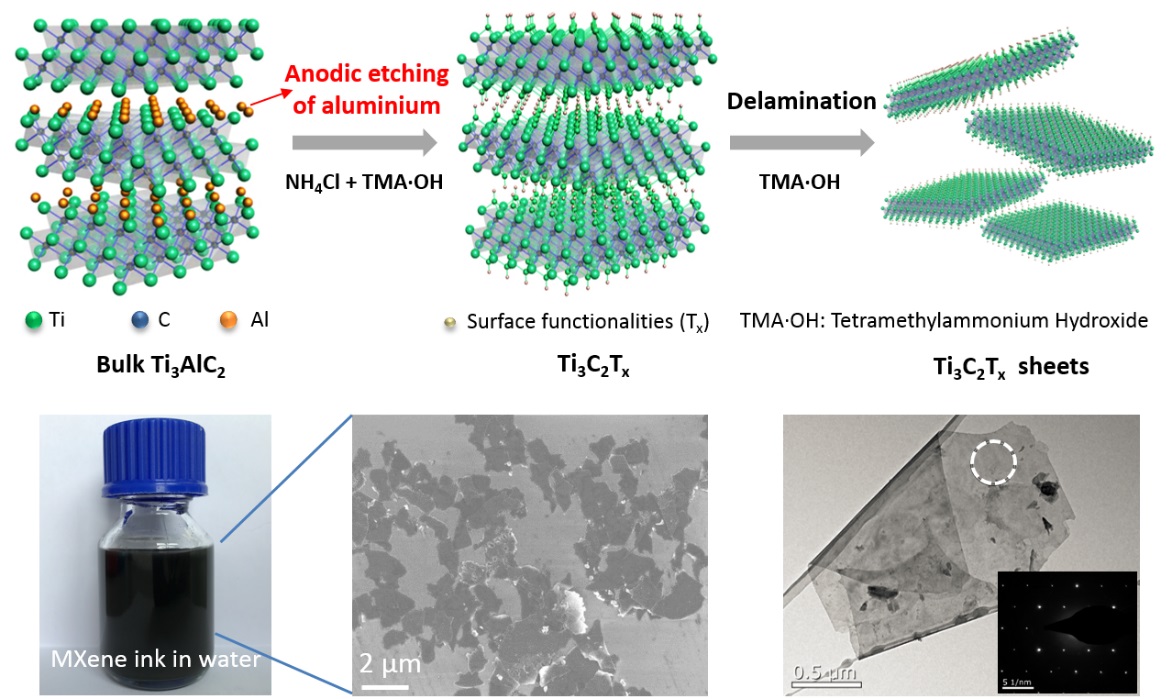 This work was financially supported by the Deutsche Forschungsgemeinschaft (MX-OSMOPED project), ERC grants on 2DMATER, Graphene Core 2 and EC under Graphene Flagship (NO. CNECT-ICT-604391) and Center for Advancing Electronics Dresden (cfaed).
Reference:
Sheng Yang, Panpan Zhang, Faxing Wang, Antonio Gaetano Ricciardulli, Martin R. Lohe, Paul W. M. Blom & Xinliang Feng*, Fluoride-Free Synthesis of Two-Dimensional Titanium Carbide (MXene) Using A Binary Aqueous System. Angew. Chem. Int. Ed. 2018, DOI: 10.1002/anie.201809662
MOFtronics: 2D metal-organic frameworks are ready for electronics
Published on October 16, 2018
A group of scientists has observed for the first time band-like electron transport in a conjugated two-dimensional (2D) metal-organic framework film (Nature Materials, "High-mobility band-like charge transport in a semiconducting two-dimensional metal–organic framework"). This semiconducting behavior, together with its cost-effective production, opens the path for employing metal-organic frameworks as electroactive materials in electronic devices.

The 21st century has seen a reinvention of how modern electronics impact our daily lives. Inorganic semiconductors as silicon, germanium or gallium arsenide are at the core of modern electronics; they are currently widely employed in e.g. computer chips, LEDs and solar cells. Inorganic semiconductors are highly pure, crystalline and hence ordered materials, these features make them good conductors of electricity under the application of an external bias (e.g. by applying a voltage). As a drawback, their high crystallinity and purity is reached by high temperature processing and then, they are very expensive to produce. A low-cost alternative are organic based semiconductors as e.g. polymers, these can be processed at room temperatures.

The scientists from TU Dresden/MPI-P/IMDEA Nanociencia/HZDR/MPI-CPS/Sofia have now developed and characterized a novel metal-organic framework (MOF) material, an organic graphene-like two-dimensional (2D) material made at room temperature that, remarkably, behaves electrically as inorganic semiconductors. These results open the path for exploiting MOFs as electroactive materials in electronic devices.


Figure (a) A high-resolution transmission electron microscopy image of the conjugated 2D MOF together with the structural schematic (grey, yellow and orange: carbon, sulfur and iron atoms, respectively). (b and c) Transport studies by THz spectroscopy and Hall effect measurements, respectively.

MOFs are crystalline coordination polymers that consist of metal ions connected by organic ligands. In the past, MOFs were regarded as insulators due to the large separation of metal centers by multi-atom, insulating organic ligands, etc. The new conjugated 2D MOF, produced by the team of Dr. Renhao Dong and Prof. Xinliang Feng in TU Dresden, is a highly crystalline film, obtained from trigonal planar organic ligands that are coordinated by square-planar atomic metal nodes. Such design rendering graphene-like conjugated planar geometry induces full delocalization of p-electrons in 2D, leading to a largely improved conductivity and a narrowed band gap.

The group led by Dr. Enrique Cánovas in MPI-P/IMDEA Nanociencia characterized the 2D MOFs by Terahertz (THz) spectroscopy, a tool that measure the conductivity of a sample in ultrafast time scales (10-12 seconds), locally (measuring currents over distances as short as 10-9 meters) and optically (without the need of applying perturbative metal contacts). These aspects enabled THz spectroscopy to assess the dependence with frequency for the conductivity in the 2D MOF, which turns out to obey a "Drude" behaviour; the same found in e.g. in highly crystalline silicon. From the Drude response, resolved by THz spectroscopy in the novel 2D MOFs, a world record electron mobility was inferred, that surpass previous values, obtained in insulating MOFs, by a factor of 10000.

The "Drude" behaviour implies that electrons can be displaced very easily over very long distances when a voltage is applied. As contrast, a Hall effect measurement by the group led by Dr. Artur Erbe in HZDR based on a "real" electronic device further confirmed the high mobility in this novel MOF. These results open the path for exploiting low cost MOFs in a plethora of novel applications where long-range motion of electrons is desired (e.g. in electronic devices).

This research is a joint collaboration between scientists from Germany, Bulgaria and Spain. The Technical University of Dresden, the Max Planck Institute for Polymer Research, the Max Planck Institute for Chemical Physics of Solids, the Helmholtz Zentrum in Dresden, the Wilhem-Ostwald-Institute of Physical and Theoretical Chemistry in Leipzig, The University of Sofia and the Madrid's Institute of Advanced Studies IMDEA Nanociencia contributed to this work.


Reference:
Renhao Dong, Peng Han, Himani Arora, Marco Ballabio, Melike Karakus, Zhe Zhang, Chandra Shekhar, Peter Adler, Petko St. Petkov, Artur Erbe, Stefan C. B. Mannsfeld, Claudia Felser, Thomas Heine, Mischa Bonn, Xinliang Feng and Enrique Cánovas. High-mobility band-like charge transport in a semiconducting two-dimensional metal–organic framework. Nature Materials 2018, online.
This work was financially supported by the ERC Grant on 2DMATER, HIPER-G and EU Graphene Flagship, European Science Foundation (ESF), SPP 1928 (COORNET) and the German Science Council. Financial support by the Max Planck Society is also acknowledged. We acknowledge the CFAED (Center for Advancing Electronics Dresden). E.C. acknowledges financial support from the Max Planck Graduate Center and the Regional Government of Comunidad de Madrid under project 2017-T1/AMB-5207. R.D. gratefully appreciates funding from the Alexander von Humboldt-Foundation. H.A. and A.E. are grateful to the Initiative and Networking Fund of the Helmholtz Association of German Research Centers through the International Helmholtz Research School for Nanoelectronic Networks, IHRS NANONET (VH-KO-606). We appreciate LPKF Laser & Electronics for the fabrication of the Hall bar geometry by laser ablation. We acknowledge the Dresden Center for Nanoanalysis (DCN) at TUD and P. Formanek (Leibniz Institute for Polymer Research, IPF, Dresden) for the use of facilities, and we appreciate X. Zhang, T. Zhang, F. Ortmann and K. S. Schellhammer for the helpful discussion. P.P. and T.H. thank ZIH Dresden for providing high-performance computing facilities.
Marcus Richter wins the RSC poster prize at EuCheMS 2018
Published on September 5, 2018
Congratulations to our PhD student Marcus Richter for the honour to win the Royal Science Chemistry (RSC) poster prize at the EuCheMS conference 2018, which was sponsored by the three RSC journals Nanoscale, Nanoscale Advances and Nanoscale Horizons.
The 7th EuChemS Congress is an internationally respected, large-scale event for chemical sciences, which was held from 26th to 30th August 2018 in Liverpool. This conference had a wide selection of current research topics in chemistry and was highlighted by expert talks from noble prize winner Ben Feringa, Michael Grätzel or Omar Yaghi.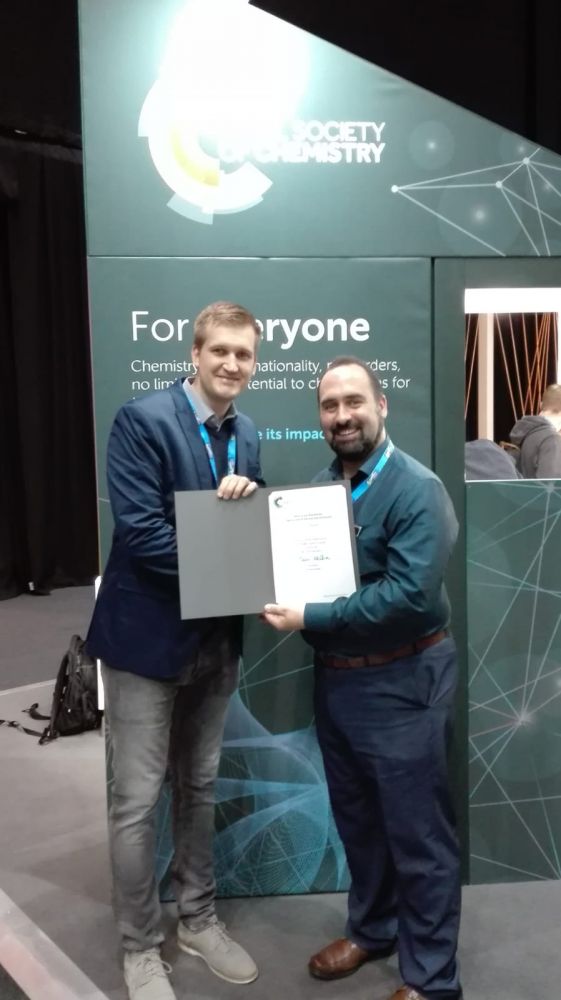 Guest lecture - Prof. Yoshito Tobe, Osaka University
Published on August 28, 2018
Speaker: Prof. Yoshito Tobe, Osaka University
Date/Time: Friday, August 31, 2018, 02:00 PM - 03:30 PM
Location: TU Dresden, Walther-Hempel-Building, HEM 219 seminar room (second floor)
Topic: Porous Self-Assembled Monolayers at Solution/Graphite Interfaces: From On-Surface Chirality to Molecular Lithography
Click here for more information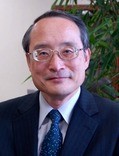 Symposium at TU Dresden in celebration of 30 years "Wiley's Advanced Materials"
Published on July 27, 2018
Exactly 30 years ago, Advanced Materials - the scientific journal focusing on innovative materials research - saw the light of day. On this occasion the TU Dresden was proud to organize a scientific symposium with the topic "Advanced Carbon & 2D Materials" in honour of this first-class journal which is pioneering in the field of chemistry and materials research. 24 world-renowned scientists from all over the world gave an insight into their groundbreaking research in these fields.

A large number of young scientists followed the inspiring lectures and had the opportunity to present their latest research results to the experts in these research fields, but also to high-ranking representatives of the journal and the publishing house Wiley-VCH, resulting in a stimulating scientific exchange.

It can be said that this symposium was a complete success due to its internationality, the diversity of research and the numerous discussions - both for "Advanced Materials" and Wiley-VCH, the participating (young) scientists and the materials research location TU Dresden.
| | |
| --- | --- |
| | |
Magnetic semiconducting 2D MOF
Published on July 10, 2018
Metal-organic frameworks (MOFs) so far have been highlighted for their potential roles in catalysis, gas storage and separation. However, the realization of high electrical conductivity (>10-3 S/cm) and magnetic ordering in MOFs will afford them new functions for spintronics, which remains relatively unexplored.

The groups from cfaed/TUD/HZDR/MPICPS/IKTS/XJTU demonstrate the synthesis of a two-dimensional MOF (2D MOF) by solvothermal methods using perthiolated coronene, namely 1,2,3,4,5,6,7,8,9,10,11,12-perthiolated coronene (PTC, reported by the same group (J. Am. Chem. Soc., 2017, 139, 2168-2171)), as a ligand and planar iron-bis(dithiolene) as linkages enabling a full p-d conjugation. Thus, such 2D MOF is featured with hexagonal lattices and van der Waals layer-stacking structure. Van der Pauw electrical measurement reveals the room temperature conductivity value of ~10 S/cm for bulk compressed pallet. A variable-temperature conductivity measurement displays a non-linear increase of conductivity with temperature, indicating a typical semiconducting behavior. A density functional theory (DFT) calculation is carried out to estimate the band gap as ~0.2 eV for a monolayer MOF. A variable-temperature magnetic susceptibility measurement as well as 57Fe Mössbauer spectra demonstrated that the PTC-Fe exhibit ferromagnetic ordering within nanoscale magnetic clusters at low temperatures (below ~20 K), thus evidencing exchange interactions between the intermediate spin iron(III) centers via the delocalized p electrons. Our work highlights conjugated 2D MOFs as a class of conductive materials exhibiting ferromagnetic and semiconducting features for potential spintronics application.

This work was financially supported by the ERC Grant on 2DMATER, EU Graphene Flagship, SPP 1928 (COORNET) and the German Science Council. We acknowledge the cfaed (Center for Advancing Electronics Dresden). We also thank Beamline BL14W1 at the Shanghai Synchrotron Radiation Facility (SSRF) for providing the beamtimes to carry out the XAS measurements. We acknowledge Dresden Center for Nanoanalysis (DCN) at TUD and Dr. Petr Formanek (Leibniz Institute for Polymer Research, IPF, Dresden) for the use of facilities, and we like to appreciate Prof. Stuart Parkin, Dr. Binghai Yan, Dr. Reinhard Berger and Mr. Chi Xu for the helpful discussion.
Reference:
Renhao Dong, Zhitao Zhang, Diana C. Tranca, Shengqiang Zhou, Mingchao Wang, Peter Adler, Zhongquan Liao, Feng Liu, Yan Sun, Wujun Shi, Zhe Zhang, Ehrenfried Zschech, Stefan C.B. Mannsfeld, Claudia Felser & Xinliang Feng*, A coronene-based semiconducting two-dimensional metal-organic framework with ferromagnetic behavior. Nat. Commun. 2018, DOI: 10.1038/s41467-018-05141-4.
Graphene 2018 Conference was successfully held in Dresden
Published on July 5, 2018
The 8th edition of International Graphene Conference series, the largest European Event in Graphene and 2D Materials with nearly 650 participants from different scientific institutes and industries was successfully held in Dresden from the 26th to 29th of June 2018. The conference covered all areas related to Graphene and 2D Materials including chemistry, physics, material science and engineering. Moreover, within Exhibition and 2 days INDUSTRIAL FORUM, most recent technologies and business opportunities in Graphene and 2D Materials commercialization were presented.
EU Graphene Flagship Meeting took place in Dresden on June 25th 2018
Published on June 26, 2018
On June 25th a meeting of the EU Graphene Flagship with 27 participants from different European institutes and companies took place at TU Dresden. The chair for molecular functional materials (Prof. Xinliang Feng) is the leader of working package 13 (Functional Foams and Coatings) of this EU Flagship project and the purpose of this meeting was to discuss initial results and future perspectives in the field of graphene and related 2D material. The special focus of this meeting was the use of graphene and 2D materials in coatings and porous structures like foams and membranes for applications such as energy storage and conversion, catalysis, water filtration and environmental protection.
EU-40 materials prize awarded to Prof. Xinliang Feng at the e-MRS 2018 Spring Meeting in Strasbourg
Toward Full Zigzag-Edged Nanographenes: peri-Tetracene and Its Corresponding Circumanthracene
New understanding on graphite: a high power cathode material
Copper-surface-mediated synthesis of acetylenic carbon-rich nanofibers for active metal-free photocathodes
This work was financially supported by the ERC Grant 2DMATER, ESF Young Researcher Group 'GRAPHD,' and the EC under the Graphene Flagship (number CNECTICT-604391). The German Excellence Initiative via the Cluster of Excellence EXC1056 "Center for Advancing Electronics Dresden" (cfaed) is gratefully acknowledged.
A Delamination Strategy for Thinly Layered Defect-Free High-Mobility Black Phosphorus Flakes
This work is financially supported by ERC grants on 2DMATER, Graphene Core 1 and EC under Graphene Flagship (NO. CNECT-ICT-604391) and Center for Advancing Electronics Dresden (cfaed).
Graphene 2018 will take place in Dresden
Exploration of pyrazine-embedded antiaromatic polycyclic hydrocarbons generated by solution and on-surface azomethine ylide homocoupling
C.-A.P. was supported from the European Union's Horizon 2020 research and innovation program 2D ink (no. 664878). X.-Y.W. is grateful to a fellowship from the Alexander von Humboldt Foundation. R.B. appreciates
support by European Social Fund and the Federal State of Saxony (ESF-Project "GRAPHD"). M.G. acknowledges the H2020-MSCA-IF-2014 program and W.A. a Heisenberg professorship by the DFG. This work was partially
supported by the ERC Consolidator Grant NanoSurfs (no. 615233), the Max Planck Society, the German Excellence Initiative"Center for Advancing Electronics Dresden" (cfaed), and the Graphene Flagship.
14th European Conference on Molecular Electronics (ECME) was successfully held in Dresden
Guest lecture - Prof. Emil List-Kratochvil, Humboldt-Universität zu Berlin
Click here for more information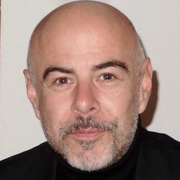 Marcus Richter wins the ACS Nano Poster Prize Award
Published September 5, 2017
Congratulations to cfaed PhD student Marcus Richter for being honored with one of three prestigious ACS Nano Poster Prize Awards at the ChinaNANO 2017 in Beijing, which was held between August 29-31. He received it for his poster on "Polycyclic Azomethine Ylides as Versatile Building Block for Unprecedented N-doped Nanographenes". A total of over 800 posters were pitching at the conference. The prize was handed over by Prof. Paul S. Weiss (founding Editor-in-Chief of ACS Nano) during the closing session. Marcus Richter, who was supported by the cfaed Inspire Grant, visited the chairs of Prof. Carlos-Andres Palma, Prof. Shixuan Du and Prof. Hong-Jun Gao at the Institute of Physics at the Chinese Academy of Science in Beijing for two months.

ChinaNANO 2017 is intended to stimulate discussions on the forefront of research in nanoscience and nanotechnology. The conference will focus on carbon nanomaterials, inorganic nanomaterials and MOFs, self-assembly and soft nanomaterials, nanocatalysis, nano-composites and applications, energy nanotechnology, environmental nanoscience and nanotechnology, nanophotonics and plasmonics, 2D materials beyond graphene and nanodevices, nanocharacterization, standards and metrology, modeling and simulation of nanostructures, nanobiotechnology and nanomedicine, nanotechnology for bioimaging and diagnostics, safety and health of nanomaterials,printing of nanomaterilas and applications as well as optoelectronic nanomaterials and devices.
About ACS Nano
Published monthly, ACS Nano is an international forum for the communication of comprehensive articles on nanoscience and nanotechnology research at the interfaces of chemistry, biology, materials science, physics, and engineering. Moreover, the journal helps facilitate communication among scientists from these research communities in developing new research opportunities, advancing the field through new discoveries, and reaching out to scientists at all levels.
The 1st China-EU Graphene Flagship Bilateral Workshop on Graphene and 2D Materials was co-organized by Prof. Xinliang Feng in Beijing, China
Guest lecture - Prof. Wei Zhang, University of Colorado Boulder, USA
Click here for more information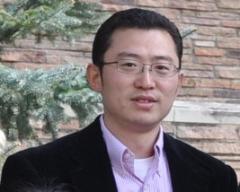 Hamburg Science Award 2017 goes to Klaus Müllen and Xinliang Feng
Link: Press release TUD (English)
Link: Press release Academy of Sciences and Humanities (German)
Workshop "Chemistry of 2-Dimensional Materials" in Dresden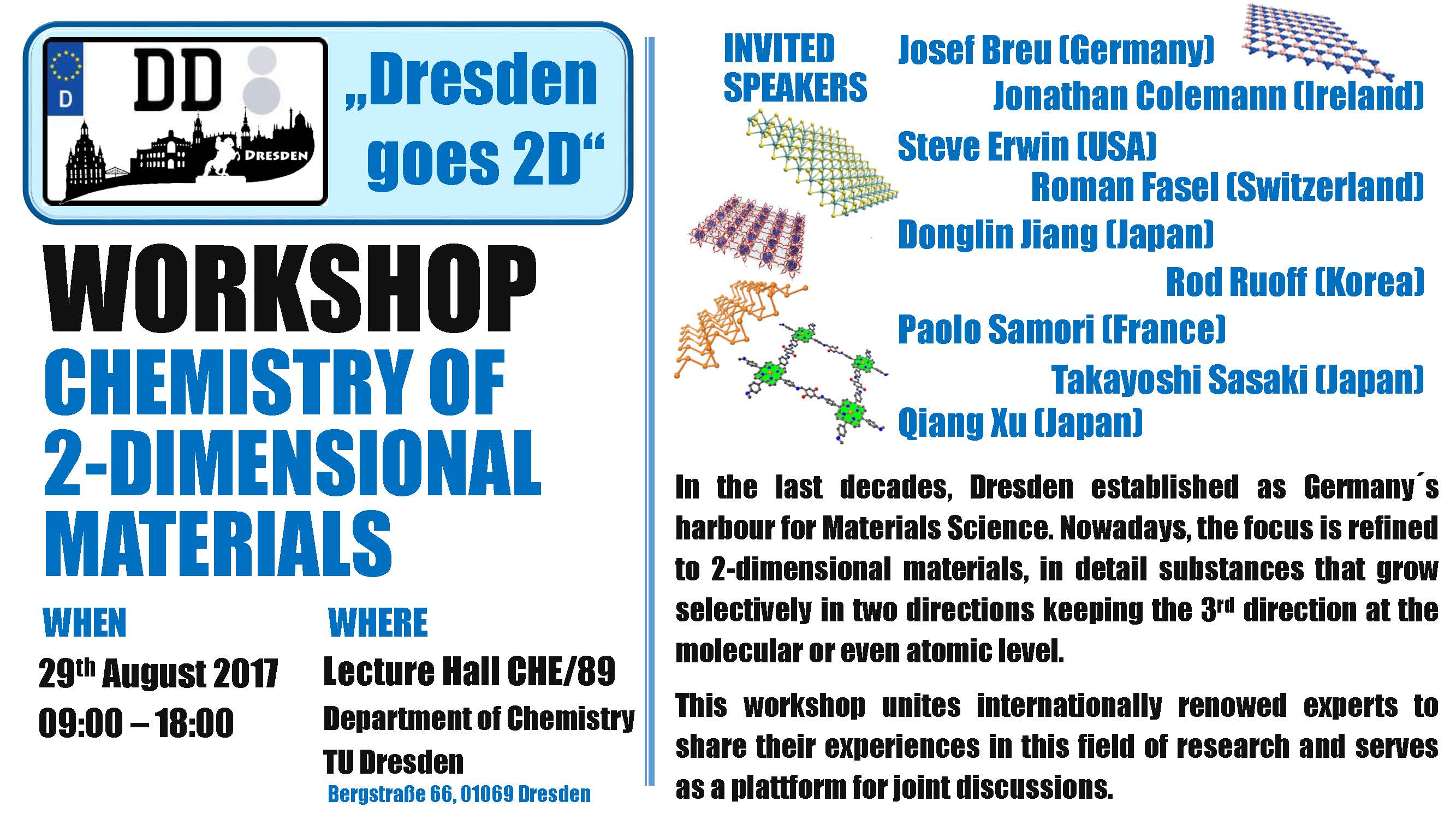 Prof. Xinliang Feng's & Prof. Klaus Müllen's book "Chemistry of Carbon Nanostructures" has been published
Link: De Gruyter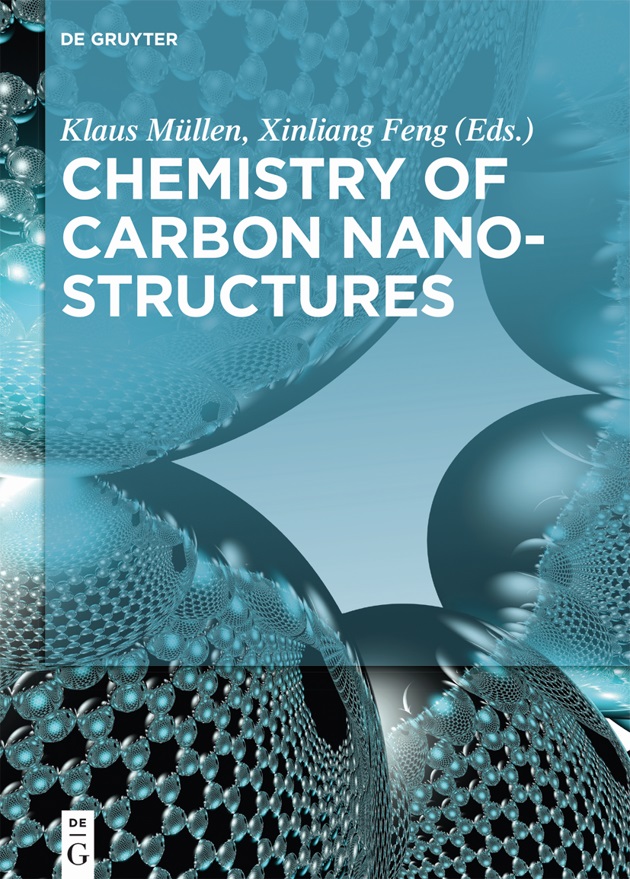 π-Extended and Curved Antiaromatic Polycyclic Hydrocarbons
Prof. Xinliang Feng receives ERC Proof of Concept Grant
Synthesis of Molecular Hydrogen: Novel Method Sets Benchmark for Platinum-free Electrocatalysts
Prof. Xinliang Feng wins the 2017 Small Young Innovator Award
Ultrafast Delamination of Graphite into High-Quality Graphene Using Alternating Currents
Honorable Mention for the 2017 IUPAC-SOLVAY International Award for Young Chemists
cfaed Successfully Presented at 'Graphene2017' in Barcelona - Next Year's Conference Will be Held in Dresden

Link to: Press release
Coordination Polymer Framework-Based On-Chip Micro-Supercapacitors with AC Line-Filtering Performance
Figure. a-c) Schematic illustration of LBL fabrication of PiCBA films on Au interdigital electrodes; e) Impedance phase angle on the frequency for the PiCBA-based microdevices; f) Impedance phase angle
on the frequency for the PiCBA-based microdevices; g) Calculated quantum capacitance based on the two bands crossing the Fermi level for zero disorder, and charge density of the lower band crossing the Fermi
level at the G point as well as close to the Brillouin zone boundary at X, namely k = (0.4, 0.0, 0.0).

C. Yang, K. S. Schellhammer, F. Ortmann, S. Sun, R. Dong, M. Karakus, Z. Mics, M. Löffler, F. Zhang, X. Zhuang,* E. Cánovas,* G. Cuniberti, M. Bonn, X. Feng*
Coordination Polymer Framework Based On-Chip Micro-Supercapacitors with AC Line-Filtering Performance
Angew. Chem. Int. Ed. 2017, 56, 3920-3924. [DOI: 10.1002/anie.201700679] [very important paper]
Link to: Angewandte Chemie
Guest lecture - Prof. Hossam Haick, Technion - Israel Institute of Technology, Israel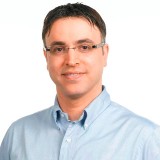 Click here for more information
Highly Stable Open-Shell Nanographenes with a Saddle-Shaped Geometry
Persulfurated Coronene: A New Generation of "Sulflower"
Stimulus-Responsive Micro-Supercapacitors
Wafer-sized multifunctional polyimine-based two-dimensional conjugated polymers with high mechanical stiffness
EU Graphene Flagship Meeting